Average rating from 4 users
25%Recommend to a friend
I originally discovered this brand through the founder's amazing content on social media! While I wanted to love this product, (I mean, helloooo?! Healthy boba?!) it fell flat for me. The tea lacked flavor and the pearls reminded me of a less dense crystal boba, not to mention that there weren't many pearls in the bottle. Personally, I'll stick to my occasional boba milk tea.
Feedback
I think the biggest thing here would be refining the tea flavors.
---
As expected, konjac and tapioca mixed together don't make very good boba pearls. What was most surprising was how flavorless the teas were themselves. The passion fruit one was okay. The matcha was just watery generic green tea. And the black tea was like the LaCroix of milk teas, barely there. I'll be continuing to make my own tea at home using allulose as my sweetener and adding a small serving of tapioca boba cooked on the stove for my cheat days.
Feedback
The flavors need to be at least as strong as what's found in other no sugar tea brands, like Bai. Also, I'd probably prefer Konjac jelly over the hybrid boba.
---
---
I don't believe the tea is actually milk tea I think it's just water and something flavored in it. I think they're trying to push for low calories but I've had low calorie boba tea before and they didn't taste fake. There is no refreshing smell and all of the other flavors except for the Black Milk Tea are awful it's like I couldn't even get through two sipsand the tapioca pearls they're white except for in the black milk tea. That flavors actually okay it's just very very watered down and not very refreshing. I would never purchase this again and if I did the only one that I could probably stomach drinking is the one I said which is called Black Milk Tea. I wouldn't waste your money the ones that are at Five Below are way better and I believe they're actually made with milk tea not water. The only thing that I liked about this six pack with the different flavors is that it gives you the Boba straws which is cool. I'm keeping the straws and throwing the drinks out.
Feedback
The flavors they were so watered down it was like drinking water with a tad bit of flavoring in it and it was gross. All of the Boba should be black and it was almost like I was drinking aloe vera drink. The tapioca pearls looked just like aloe vera chunks.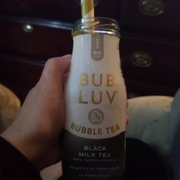 ---
What is Thingtesting?
Thingtesting is an unbiased place to research and review internet-born brands — because honest reviews help us all shop better. Learn more.
---
I tried the passion fruit oolong guava . I loved it first time ever having Tapioca pearls. So I did put a little twist to it I added some raspberry flavor to it and it was awesome. This would be great for a brunch drink .
---