Average rating from 7 users
33%Recommend to a friend
Beautiful design and have had mine for 2 years. Love it but they haven't had replacement heads in several months.
---
Buyer beware, after placing an order 17 days ago, my credit card was billed and an order number was emailed. Once this took place I have not heard from Bruush after numerous emails and phone calls. Called the fraud department at my bank to get my money back. Zero customer service.
---
---
The brush is wonderful. But there are no replacement heads available. No other brands fit the Bruush toothbrush. It is a huge disappointment not to be able to use the brush because the brush heads are not available. The Bruush website now shows that the brushes are not available either. There seems to be a big problem at this company. They are unable to supply and it is not just supply chain issues.
---
What is Thingtesting?
Thingtesting is an unbiased place to research and review internet-born brands — because honest reviews help us all shop better. Learn more.
---
I've had this toothbrush for over a year and have absolutely loved it UNTIL they have not have replacement brush heads for a very long time. Customer service was responsive at first, but then completely stopped responding. It's very frustrating to spend close to 100 dollars on the toothbrush and not have any replacement brush heads.
---
Great toothbrush but my recommendation: find another option. This is the second time I've had issues getting my replacement heads. The first time was during COVID, when the company claimed they were experiencing manufacturing issues and it took three to four months to finally get my order. Understandable, since everyone was experiencing issues during the pandemic. The most recent time, I don't even know what the issue is, since the company won't respond to my inquiries. I am on a 6-month replenishment program and for the past four months they just keep bumping my auto-ship order by another month with no email notification or response to my emails. Toothbrush is useless without being able to get replacement heads.
---
Love my toothbrush and all of its settings. Not super loud and is beautiful. Charger is small and easy to keep clean. Also love that they don't try to push a really aggressive brush head replacement subscription on you. Has held up well over the last 6+ months so far.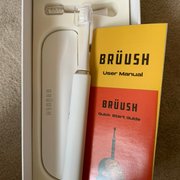 ---
Received a free product from Bruush
Love the unboxing experience and love the product to death! My favourite thing is the travel case, super great for girls night sleepovers and traveling. I've been using my Bruush for a little over a year now and I love it.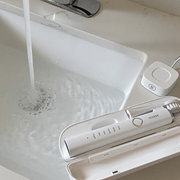 ---