Brevite
Brevite offers direct-to-consumer camera and everyday backpacks.
brevite.co
Average rating from 6 users
80%Recommend to a friend
I purchased this backpack after seeing it pop up a couple times in targeted ads. I was looking for a new backpack at the time for walking around campus. It's turned into one of my favorite items that I own. The backpack is not just for photographers, although it is marketed toward photographers. I bought the Brevite Backpack and it has a bunch of storage, a laptop sleeve, and pretty much all the room and features you would need in an everyday backpack. The only downside is that the backpack itself is not waterproof, so you would have to purchase the rain cover in addition to the backpack if you wanted to keep the elements off.
Feedback
I would love an option that is waterproof without covering the bag with a rain cover!
---
---
I have the normal backpack (not the camera bag) and I get compliments on it all the time. It is perfect for travel, which is why I purchased it, and still looks professional. The main pocked fits a lot and has a smaller opening on the side of the bag if you need to grab something quickly. The small front pocket has a bunch of small pockets and still some room to fit larger, thinner items. I also love that it has a laptop pocket that is protected. I have the green color and I would say it is a little greener than shown on the website but I still love it.
Feedback
I wish there was a wider pocket in the small front zipper section.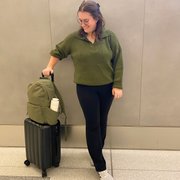 ---
What is Thingtesting?
Thingtesting is an unbiased place to research and review internet-born brands — because honest reviews help us all shop better. Learn more.
---
I saw this brand on Instagram and as a photographer, this backpack has been life changing. The adjustable compartments are great for storing your body, lenses and extra supplies. Plus the laptop sleeve is super convenient! I am so glad I got this backpack!
---
The backpack is good - not amazing. I use it as my everyday work pack and it gets the job done. I do not recommend this as a travel pack as it doesn't fit very much.
Feedback
Could have has more compartments, and overall space.
---
The backpack is so high quality, fits so much, and is so well-designed. I look forward to packing it. Perfect for everyday, or for travel.
Feedback
I think there would be one more small outside pocket possibly? But honestly that's being nitpicky.
---