Average rating from 1 user
I'll admit it, I am a pizza snob. Enjoying all the different types of pizzas you can think of and yes the occasional chain brand to keep my palette well calibrated. That said, I also make a lot of my own pizza with a particular focus on the naturally leavened dough recipes (sourdough starter but not fully neopolitan). Now that we have covered my background, let's talk about these tomatoes. They are one of my top 3 cans of tomatoes and even if I see my other 2 favorites, I'll still buy Bianco. I always get the whole peeled and never bother with any crushed tomatoes. Additionally, the cans always make for cute decor at your next pizza/pasta party.
Feedback
I went to Chris Bianco restaurant, Pizzeria Bianco, here in LA and unfortunately it didn't meet my expectations. Bianco's canned tomatoes are the real star here.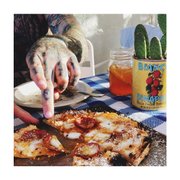 ---