Average rating from 3 users
I've had Bellabeat for about five years and in that time, have gone through 3 devices. It's the only activity tracker that I've used and there is a reason I have stayed with it for this long. Note: I have the LEAF and not the IVY. They say it tracks your stress levels, but that is really just an algorithm based on how much activity, sleep, and water you drink (and you have to manually upload your water intake). I mention this because I for some reason thought that the device itself could tell me if I was stressed, which maybe is not a thing. Pros: I love the design and get compliments on it all the time - particularly love that it doesn't look like an activity tracker and blends in with my style. A big selling point for me is that it only syncs via bluetooth when I tell it to, and not randomly throughout the day. I know for some people that would be a con, but I don't want more emfs in my life than I need. It does a decent job of tracking activity and sleep, unless it is really low on battery. Cons: After about a year and a half to two years, they just kind of... stop... working. It's really frustrating because it wouldn't be my choice to keep buying a new one that often. Everytime I have reached out to customer service they are really nice, but pretty much act like this is the first they are hearing about a device not working anymore. I also don't love that it doesn't sync my calorie burn with most food tracking apps that I've used, it would be nice if there was seamless integration there. The battery needs to be replaced more often than they claim - Mine is about every 3 months. It's not perfect, and I have gone back and forth with my Bellabeat on whether or not I think it's worth the money. But, the fact that I have purchased three at this point should make it obvious that I like it - just wish it was a little more reliable.
---
Really cool desing. Easy to use clip, so great to use as a necklace as well as clipping on clothes.
Feedback
Because it's so easy to wear in different ways, I sometimes forget to put it on.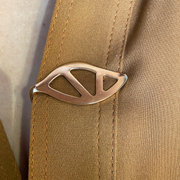 ---
---
I bought my girlfriend a Bellabeat to use a few years back, as she wanted something to monitor her health that was also discreet in its design — Bellabeat at the time hit all the right notes. In terms of the design, it's functional and flexible, while also being stylish. You can wear it as a necklace or switch things up and clip it to your clothing if that's more your style. As for the data tracking, it seemed to be generally reliable and the accompanying app appeared user friendly and regularly updated.
---