Bare Hands
5 • 5 Reviews
Bare Hands sells an at-home nail care kit that nourishes, strengthens, and shines nails for a healthy, polished, and natural look.
barehands.us
Average rating from 5 users
100%Recommend to a friend
Received a free product from Bare Hands
the cuticle smells amazing and i prefer the pen application over something like droppers because it's easier and faster to use.
---
Could not possibly recommend this more. Pretty sure this is magic because it makes my nails ridiculously shiny without over-buffing. Cuticle oil smells amazing too. Absolutely love it
---
---
I was really confused at first by what a "Dry Gloss Manicure" entails but basically the beautiful glass nail file in the kit is for you to buff your nails to a beautiful shine that looks like you put clear polish on your nails but its just your natural nail! It also helps keep your cuticles neat without trimming them / pushing them back. The cuticle oil is also amazing and easy to use, the clicking pen mechanic is satisfying to use. The videos they have on their site on how to use their product are super helpful.
Feedback
I wish there was a place in the case for the cuticle sticks and the cloth too! Also wish the cuticle oil came in a more environmentally friendly delivery method.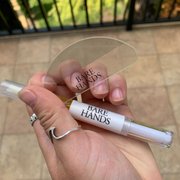 ---
What is Thingtesting?
Thingtesting is an unbiased place to research and review internet-born brands — because honest reviews help us all shop better. Learn more.
---
I love the packaging, the simple way to make bare nails look shiny, healthy, and beautiful. I also liked the portability and ease of use.
Feedback
The file can be awkward at times, and I didn't find the shape of it helpful in getting to the full surface of the nail. The white packaging gets dirty really easily and things don't stay contained in a handbag.
---
Pretty much a day 1 customer of this brand. The concept and uniqueness makes it a must have for me to give and get. Whether or not you use nail polish, the set is the best hand care I've ever used. I have bought close to a dozen sets because of how unique and beautiful it is. I can't imagine anyone not loving this!
Feedback
It's perfect as is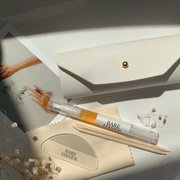 ---