Average rating from 5 users
0%Recommend to a friend
I purchased this product after seeing an ad on Facebook. I was surprised and happy to find that it worked really well for me. I subscribed monthly and took this for 4 months. Then, the company offered a free month's supply for reviews. I wrote a review (which they currently feature on their website). I was thanked for the review and then was informed by email that my "free" order had been canceled. They then charged me for my order and then never delivered it. I found the product was available on Amazon, and I then ordered it from Amazon, hoping the delivery would be more reliable. I got one month's supply and then the company discontinued their product. I was disappointed. A few months ago, I got an email saying that they'd worked out their production issues and were back in business. I signed up for a subscription and received my product. I was billed for my order over the next three months, but they never actually delivered it. I have emailed the company 8 times. I have sent them a message via Facebook. They haven't bothered to get back to me. Not once.
Feedback
I love the product, but they offer absolutely the WORST customer support. As in - there IS NONE. If someone else would make this, I'd be thrilled to purchase it from a company that actually gave a flying f&ck.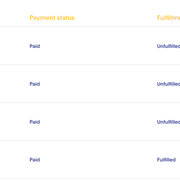 ---
6 weeks after placing my order and I have not received the product. Their customer service does not respond. Unfortunately this seems to be a common theme with Aurum Plus. It's a shame since it's such a promising idea. Based on so many others claiming similar issues and no communication from the company, shouldn't this almost be categorized as fraud?
---
---
Same here— This company is a train wreck!
Feedback
Horrible service - They never respond
---
What is Thingtesting?
Thingtesting is an unbiased place to research and review internet-born brands — because honest reviews help us all shop better. Learn more.
---
Have been charged 3 times now and never got my orders. Have been reaching out to Aurum for 3 months now and no one answers. Sometimes they answer and they say they will look into it but then never come back to me. Horrible customer service.
---
I never received the product I ordered - 3 weeks ago today. I have reached out to customer service 3 times requesting an update and they won't respond. Absolutely terrible. I also can't cancel my subscription because it requires me to email CS. It's my only option and they won't respond. I'm in disbelief. I thought this was a legitimate company.
Feedback
Communication and actually providing the product upon payment
---