Article
Article creates affordable, long-lasting, stylish furniture pieces.
www.article.com
Average rating from 63 users
97%Recommend to a friend
Article Reviews
All

63
bed frame

1
dining table

1
Sofa

1
Ottoman

1
Loved my over sized poof that doubles as a a coffee table with a tray. Good quality, good design.
---
My Article couch has held up well for 2 years now! Love their design, also own a few other things from them which have all stood the test of time. My only complaint is the lackluster inventory during "sales" (if you can call them that) and the delivery fees even on products like pillows.
---
---
We moved from Ireland to North Carolina and had absolutely no furniture for our new home. Article to the rescue! Every piece purchased from them was perfect. We bought a sofa, accent chairs, a coffee table, outdoor furniture, and a dining table and chairs. Could not have been happier with everything! We get lots of compliments, especially on the Sven couch. Shipping was always exactly when they said it was, and there were no issues with any delivery. Well worth the money!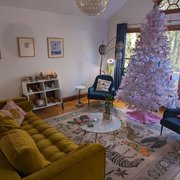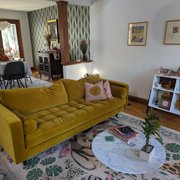 ---
What is Thingtesting?
Thingtesting is an unbiased place to research and review internet-born brands — because honest reviews help us all shop better. Learn more.
---
I'm a big fan of Article. The only downside I've experienced is the shipping times. Other than that, they've been really great. The furniture is well made, beautiful and in my budget.
---
I bought the Timber Charme Tan Sofa and the ottoman (bought them on separate occasions but should've just bought together). Overall super satisfied and it withstands my couch loving 55lb dog! Leather requires waxing here and there to preserve ; otherwise gets really dry. Docked a star only because the sofa started making a cracking sound when sitting and the customer service ghosted me. There's nothing visibly wrong yet so haven't followed up. Shipping is fast ; unlike other more traditional brands that sometimes take months!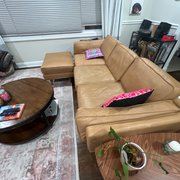 ---
Bought a couch from article. Shipping, customer service, and the product itself were all fantastic!
---
The Isla Dining Chair is perfect for our small dining room. Minimal design, easy to clean, affordable, and comes in a wide array of colors. I've had mine for 2 years now and they still look new. The shipping lead time was long, but that's expected for furniture.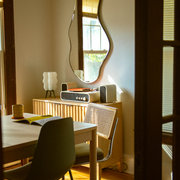 ---
We've had our Article furniture for several years (3-5) and everything has held up wonderfully. The pieces are easy to clean and maintain and are very functional.
---
I LOVE Article products. I have several pieces of furniture from them and will continue to purchase their products. They furniture is fairly priced, well designed and holds up. We have a coffee table, dining table and console from them, all heavily used and they have taken ware on so well. I also love their emphasis on straight to consumer which cuts the price down. Highly highly recommend!
---
I bought the Sven sofa in Charme leather about 5 years ago. It's very comfortable and the leather is the softest leather I've ever felt on a couch. It does show scratches from where my cats scratched it, and stains from where our dog drools on it, but it still looks decent. The main downside of the Sven sofa is that the back cushions need constant re-fluffing and start to sag after a few months. They are not supportive. We addressed this problem a couple years ago by having the back cushions tufted by an upholsterer, and now the back cushions are more supportive and require no fluffing. Since we tufted the back cushions I noticed the bottom cushion tends to slide forward a few inches over the edge of the sofa. After 5 years of use, the seat cushion also became less fluffy, and needed to be re-stuffed. Just like with any down sofa, it loses feathers over time and they become compacted. I bought artificial down on Amazon to re-fluff it, but it's definitely not as comfortable as it was when we bought it. I might try re-stuffing with real down instead. I was surprised when the sofa was delivered to my apartment in the biggest cardboard box I've ever seen. Props to the delivery team for getting it through the door!
---