Average rating from 3 users
I registered for this item on my wedding registry and my mother-in-law was kind enough to purchase back in 2020. I have issues with dairy and was previously spending upwards of 2-3 days to make homemade almond milk, so when I saw this I was excited to try it. It's changed the game! It takes probably 5 minutes to make a large batch of almond milk. And the company is thoughtful in providing recipes that you can alter to your taste—for instance, chocolate hazelnut almond milk, pistachio milk, cashew and coconut milk sweetened with dates or vanilla. The combinations are endless. Over the years I've learned some hacks to create my creamy vs liquid milk, which is just running the machine cycle twice. But the company has also started proactively sending tips as well. It's an investment, but I love it!
---
I don't think anyone understands how much I LOVE this machine. It makes the creamiest almond milk, and I add a little bit of salt + vanilla extract to make the flavor even better. If you're even slightly thinking about wanting to buy an almond cow, I'd highly recommend.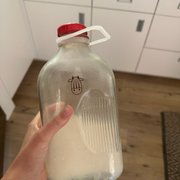 ---
---
This one gets a meh from me. I was super stoked to get it after seeing the videos online but the top motor thing is just SO heavy and it's a hassle to wash tbh. Did I use it extensively after getting it and make a lot of milk? Yes ofc. Would I recommend it to a friend? Idk~
---