Average rating from 8 users
100%Recommend to a friend
I love that the pomade is made with all-natural ingredients. The scent is delicate and it feels refreshing without synthetic-smelling perfume. Looking forward to seeing what they launch next.
---
Absolutely loved this pomade! The fact that I can get great results from a product with all natural ingredients makes my decision to switch to Ajani pretty easy. I really enjoyed packaging, sent, and the light hold. The best part - it didn't feel greasy after a full day of work like other products have. This has been my "go to" since I first tried it!
Feedback
Nothing wrong with the Good Hair Pomade but I'd love additional options with various hold and shine levels.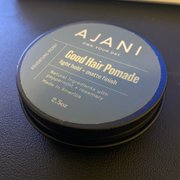 ---
---
I love using the Ajani hair pomade as a substitute for hair mousse when styling my hair. It adds the perfect texture to my hair without making it feel heavy or sticky! It has also helped tame tame the frizziness in my curly hair
Feedback
I can't thinking of anything. I like that the product has a very light fragrance that's not too overpowering. And I love how my hair is styled with this product!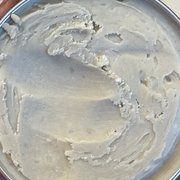 ---
What is Thingtesting?
Thingtesting is an unbiased place to research and review internet-born brands — because honest reviews help us all shop better. Learn more.
---
By far the best hair pomade I've used. Most products I used in the past had synthetic ingredients... felt like a chemistry experiment for my hair. Ajani's pomade is a game changer!
Feedback
I'd like to try different fragrances. Maybe tea tree!?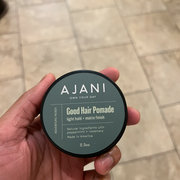 ---
I think the natural products is what really separates this brand from others in the space. For the first time, I'm using a haircare product that doesn't use synthetic ingredients. It's light on the hands and can last me a full day.
Feedback
The product is white-green and assuming you don't thoroughly rub into your hands, you could end up with the product getting too thick on certain parts of your head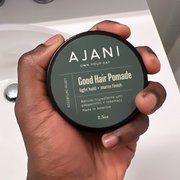 ---
I stopped using hair products for the last few years. Everything I tried was just damaging to my hair or didn't give me the look I wanted. Ajani is different. It doesn't cause my hair to fall out like the others and it keeps its shape longer and looks nicer overall. Using ingredients that I have actually heard of is the icing on the cake.
---
Great product. Works very well. Love that there are no chemicals.
---
I have been dealing with some thinning hair and was looking for a product that would be all natural. This stuff does not irritate my scalp and doesn't leave your hair all sticky.
Feedback
Ajani has quickly become my favorite pomade. It being all natural, keeps my hair healthier but it also smells great without having that nasty sticky texture. The product is a must have.
---