Abigail Bell
5 • 1 Review
Abigail Bell sells a curated selection of vintage homeware, clothing pieces, and curated art prints.
abigailbell.com
Average rating from 1 user
Friends with Abigail Bell
Overall the best! ABV values quality and is so picky when picking what she'll sell. It's a really beautiful curation of vintage pieces that are in the best quality they could be (considering their secondhand nature). I always find the most unique pieces & I'm actually currently wearing a skirt from ABV as I write this!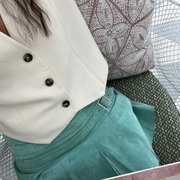 ---