How Quarter aims to deliver the taste and experience of gin with a fraction of the alcohol
With 12% ABV, London-based Quarter is a light gin aiming to deliver the taste and experience of any full-strength brand.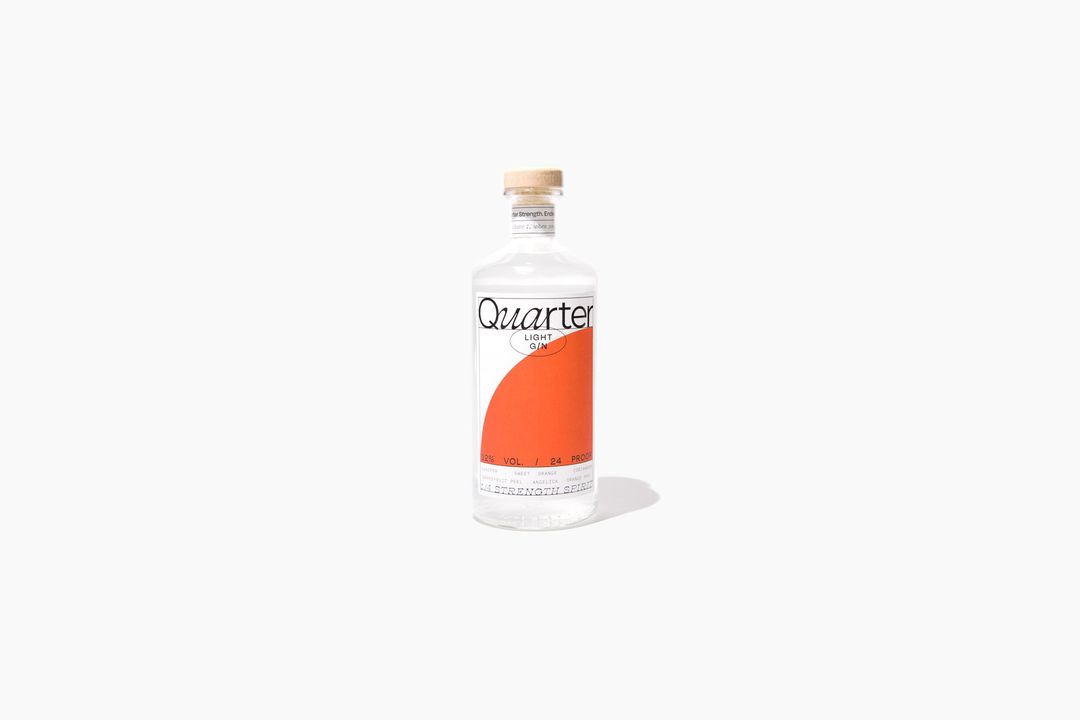 For decades, a quick scan of a bar's top shelf would turn up familiar brands with their ice-blue or emerald bottles, long traditions, and alcohol content clocking in at over 40%. Rohan Radhakrishnan, cofounder of London-based gin brand Quarter, remembers all too well when Seedlip, one of the first non-alcoholic brands to make its pitch to drinkers, hit the market. "Everyone at the time sort of laughed that away as a completely terrible idea," he says.
But today, drink brands for the sober and sober-curious are having the last laugh. Launched in September, mid-proof gin-maker Quarter is one of the newest entrants in a wider low and no-alcohol movement that has seen its sector grow 506% since 2015. At least 50 zero-percent spirit brands are on the market now in London, according to Radhakrishnan.
"Whether it's 30% beer, low-percent beer or our space of mid-proof spirits, the conversation is changing," Quarter's cofounder says. "And more people are aware of the alternative options that are available."
Today, the proposition that you can enjoy the experience of a gin and tonic, and or any other classic cocktail, with little or no alcohol doesn't sound so farfetched. And with an estimated 64% of spending in the category coming from bars and restaurants in the next five years, brands pouring out the proof points will find themselves in an increasingly fierce fight for shelf space. One only needs to look at the rapid rise of hard seltzers to understand the massive opportunity (and competition) that comes with serving up something new and exciting in the drinks space.
Taste test
Finding low-strength, good-tasting beer as their inspiration, cofounders Rohan Radhakrishnan and Fabian Clark got started on Quarter in October 2020 to create a lower proof brand in the spirits category that still delivered on taste and experience. "We both got super excited about the prospect of creating a new category within spirits, which is really exciting but does have its challenges," says Clark.
The first challenge for the two former hospitality workers was obvious: develop a London dry gin that smelled and tasted as good as any full-strength gin and could just as easily fit into existing drinking rituals for a British audience. After eight months of tasting more than 50 recipes from a former Diageo master distiller, they landed on a 12% ABV gin (one-quarter the usual amount) with notes of orange, grapefruit, and juniper.
"The key for us was when we could do blind tastings with a full-strength gin and tonic and our gin and tonic, and people couldn't tell the difference," says Radhakrishnan. "That was the key that nothing was missing."
Buzzy branding
After landing on the liquid came claiming a seat at the bar: how could Quarter get noticed on shelves dominated by longtime go-tos? "We were really conscious that we wanted to create a brand that looked and felt disruptive," says Radhakrishnan of the brand's orange and white label. "​​When you see it against all the other traditional, green bottle gin brands that are all about heritage and looking really old, we do really stand out." The height of the bottle was also taken into consideration in order "to make sure it didn't get pushed too far to the back of the bar."
A quick study of U.K.-based non-alcoholic spirits brands Three Spirit and Caleño underscore that the creators behind these colorful, design-forward bottles aren't keen on blending in with other options out there. Having differentiated branding, Radhakrishnan points out, is important for brands like Quarter because what's happening "inside the bottle was going to be very unique and different."
Another round
To produce Quarter requires going through the full distillation and blending process of any other gin on the market. But when other brands stop around 40%, Quarter continues blending – and blending some more – until it reaches 12% ABV. It's a process Quarter's cofounders say could also work well with other spirits, such as lower-proof vodka. Darker spirits with aging requirements, they say, would be more complicated.
How might Quarter continue filling this middle ground in the lighter spirits space? "We've strategically picked gin because of its popularity [in the U.K.] and because we want to be able to create a brand name that's synonymous with this space and with this product, and then move laterally into other spaces" says Radhakrishnan. "I think another white spirit would be really great."