These direct-to-consumer entertaining brands want an invite to your next dinner party
From rentable tablescapes to gourmet catering, online entertaining brands are making it easier than ever to host a party at home.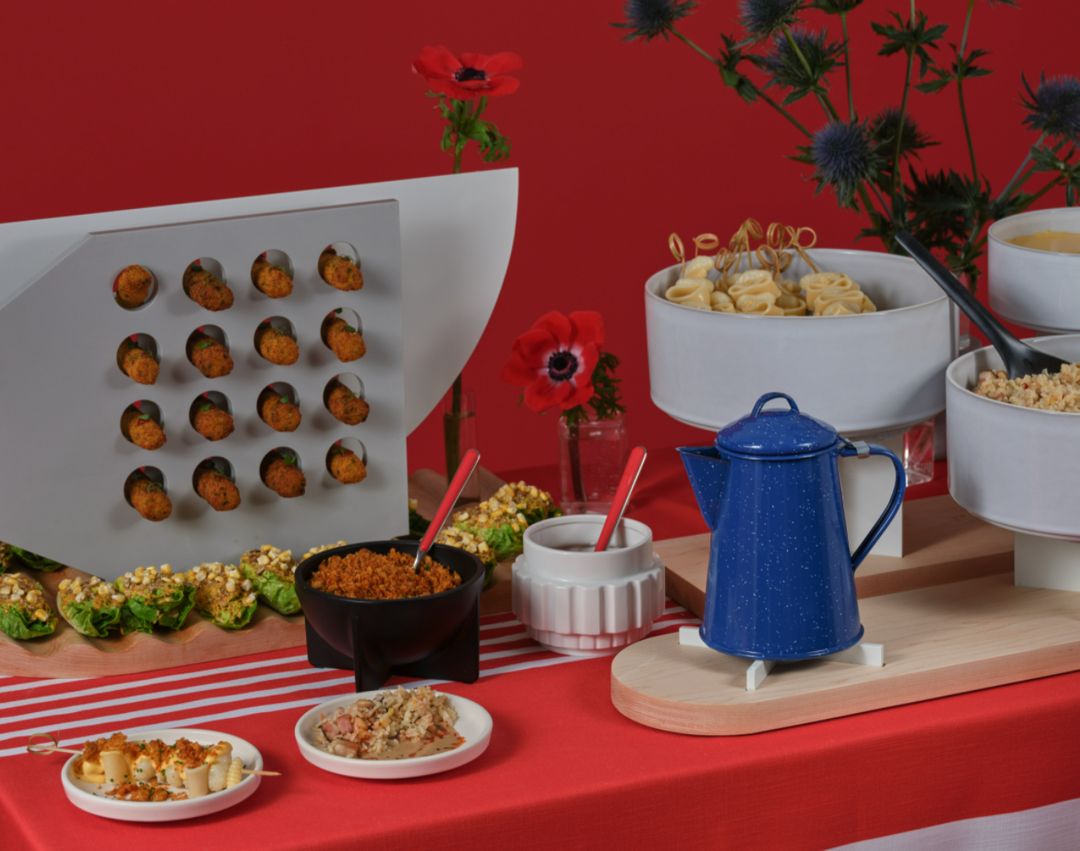 After more than a year of keeping social distance, people across the country are taking their tentative first steps towards gathering again. As of June 15, fifteen states had at least 70% of its adult population with one dose of a COVID-19 vaccine administered. States that haven't lifted most or all of their restrictions are on track to do so by the fourth of July. And while it might take more time for some to get comfortable with large events like concerts or weddings, one type of gathering is quickly gaining steam as a low-pressure way to ease back into entertaining: the dinner party.
For would-be party planners, a number of guides have popped up in recent weeks. The Seattle Times shared advice for hosting a post-vaccine dinner that keeps "stress off the menu." Food52 offered tips to ease back into hosting a gathering. And Morning Brew, The Wall Street Journal and The Washington Post, among others, all chipped in with their own straightforward hosting how-to's.
Even better than instruction: a new wave of direct-to-consumer brands focused on entertaining and party supplies are aiming to make our invite lists and elevate at-home dining experiences in the process. Helping set the table are brands like Misette, Mrs. Alice, and Social Studies, which offer full tablescapes that hosts can rent or buy to delight their guests. Feastive and Wanda, meanwhile, assist with the menu through their all-in-one food delivery services designed for groups. Companies including Meri Meri and Coterie, meanwhile, can provide the final touches with themed decorations and other party supplies.
These brands and more are making it easier than ever to throw a memorable gathering. But a select few brands, such as Party by Numbers, are taking the party-planning process even further by fully streamlining it by shipping every element needed for a summer shindig.
Party in a box
Customizing an event on Party by Numbers starts by entering your number of guests. Next, you select your food service preference, be it small bites, platters for grazing, or a family style-inspired set-up. Then, you run through overall style and aesthetic options. One might choose Sorrento, offering yellow, white, and blue reminiscent of the Amalfi Coast. Another, L'Artiste, goes after more of a French vibe, complete with graphic patterns and geometric vases. Rounding out a party package are additional elements that can add to the effect, called flair, and which include sculptures, candles, bluetooth speakers, and even real florals.
Behind Party by Numbers are cofounders Nicky Balestrieri and Luigi Tadini of The Gathery, a creative consultancy with an eye on design that works with international brands like H&M, Marriott, and Balenciaga. To get their one-stop-party-shop off the ground, they teamed up with Bob Spiegel and TJ Girard from Pinch Food Design. Party by Numbers, currently servicing New York, launched in April (the same month small gatherings were once again allowed in the state).
Balestrieri said that over the pandemic, he got to thinking about how one could package an agency-level, large-party planning experience for small, personal social events. "What I saw in the marketplace was a total lack of cohesion," he says. "There was no one-stop-shop to be able to plan a party, event, or gathering of any kind on your own, where you didn't have to go to 17 places." Balestrieri was inspired to launch Party by Numbers in earnest when he decided to single-handedly plan a birthday celebration for a friend, performing all those disparate planning functions alone.
With Party by Numbers, Balestrieri says, "What we wanted to be able to do is distill the magic down into these rentable party collections, where you answer four questions, and then have all that work done for you."
Asked whether or not he's seeing more people start making plans to party, Balestrieri points to the large backlog in events left over from 2020. "It's happening a lot faster than I imagined," he says. "We're booking events for the end of July, August, and then we're crazy busy in the fall. It's simple economics, right? When you take away the supply for a year and a half, the demand will be built up."
Thingtesting is a database of internet-born brands. We're building the un-sponsored corner of the internet where consumers can come together to talk honestly about new things. Read more about Thingtesting.
Create a free account to access exclusive features on Thingtesting and receive our weekly newsletter.
Feedback? Yes, please.