What's the difference between all these oat milk brands?
How different can they be?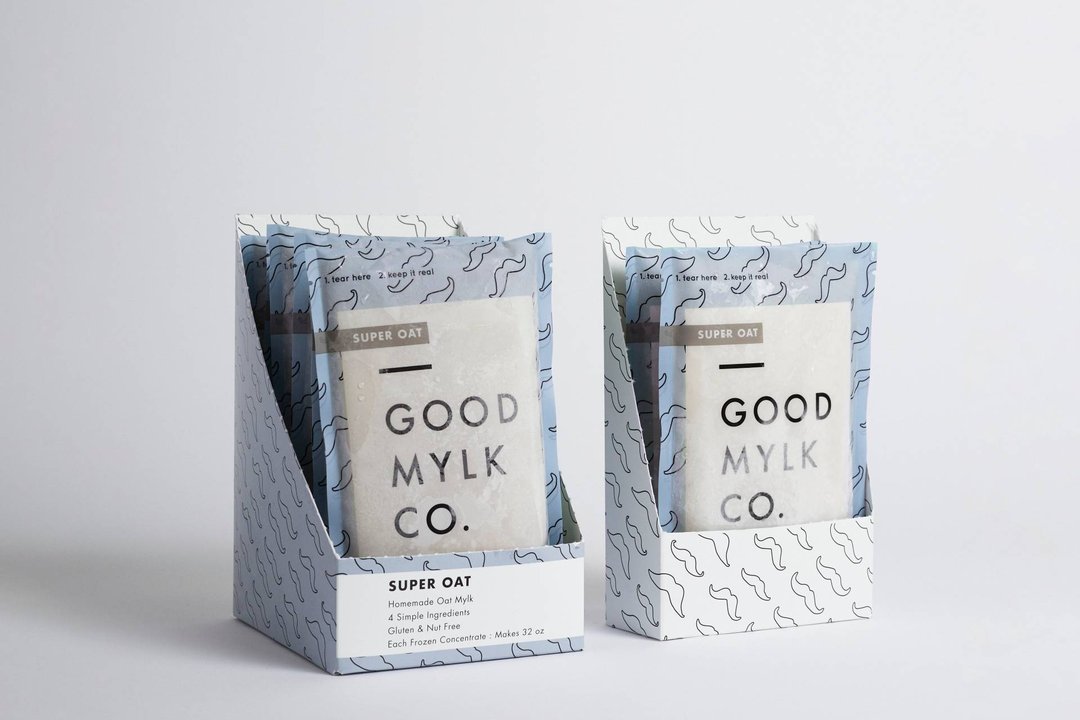 Oat milk's star is rising. In September 2020, it officially overtook soy – considered by many to be the original alt-milk – and settled comfortably into the second-top-selling spot in the US plant-based milk category.
While almond milks dominate 63% of the US plant-based milk market, sales of oat milk have risen a whopping 303.7% year-on-year, according to market research firm SPINS.
Data from Glimpse, a trend forecaster that analyses search and social media platforms, also reflects a significant uptick in oat milk interest in 2020.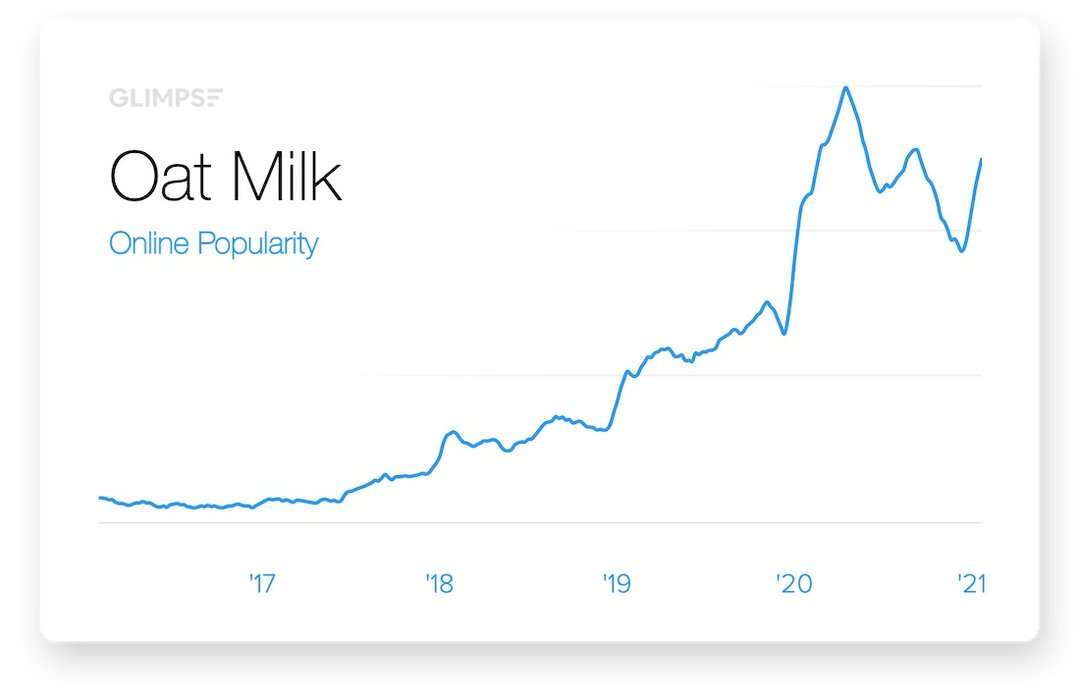 It's a staggering shift in consumption habits considering Oatly only made its US debut five years ago. And as for 2021, rumour has it we may witness the world's first oat milk IPO, as Oatly reportedly gears up for a stock listing in the first half of this year. Whatever you think of its investors, a market debut of this nature would be a watershed moment for brands that have built identities around sustainability.
The popularity of oat milk among vegan, vegetarian and flexitarian consumers has given rise to a number of new product launches in the space, with each brand presenting its idea of what makes their oat milk just right. So what's the difference between them? Five brands offer their explanations.
The freezer pack: Goodmylk
Vital stats: Contains 10% oats, 10% tigernuts, water, dates and salt. 38 calories per 100ml. $11.25 per quart (946ml).
What differentiates Goodmylk's oat milk? Rather than selling a ready-to-drink milk, Goodmylk sells frozen sachets of oat milk concentrate that can be diluted with water as needed. "We don't do any weird processing or add anything other than real food into our recipes," Goodmylk's founder, Brooke Harris says. "We've also added tigernuts (not a nut, a veggie) to add protein, potassium and iron, and to give a nice mouth feel without adding oils."
Homegrown in New Zealand: Otis Oat Milk
Vital stats: Contains 10% New Zealand-grown oats, water, rapeseed oil and salt. Fortified with additional minerals and vitamins. 46 calories per 100ml. $5.45NZD ($3.90) for a bottle of Everyday milk.
What differentiates Otis's oat milk? "It's the only oat milk to us New Zealand grown oats, [which] have been shown to be higher in good fats, which is good for lowering cholesterol," managing director Tim Ryan says. "We're the only company truly driven to help the NZ agricultural sector to evolve away from the unsustainable intensive dairying model and towards a diverse plant-based, regenerative system."
Made for coffee: Minor Figures
Vital stats: Contains 10% oats, water, rapeseed oil, tricalcium phosphate (an acidity regulator), calcium carbonate and salt. 48 calories per 100ml. $3.99 per litre.
What differentiates Minor Figures' oat milk? "All our products are 100% Plant-based, carbon neutral and barista standard," says Romilly Martin, the company's brand director. "Our oat milks are not designed to replicate dairy or any other milk. Despite being our biggest selling products, we're really a coffee company at heart and our milks are made to showcase the true flavour of your coffee without masking or overpowering it."
Deliver and recycle: Goodness M*lk
Vital stats: Contains 12% oats, water, cashews, sea salt, agave nectar. 32 calories per 100g. £2.99 per 500ml.
What differentiates Goodness M*lk's oat milk? Goodness uses a milkman model, whereby glass bottles of oat milk are delivered and collected when empty. The service is currently only available in London. "We're made solely to please the customer and to please the planet," says Doyin Sogbesan, the company's founder. "Also, our branding [differentiates us]. It's fire."
The oat milk original: Oatly
Vital stats: Contains 10% oats, water, rapeseed oil, calcium carbonate, calcium phosphates and iodised salt. Fortified with vitamins. 46 calories per 100ml. £1.50 per litre.
What differentiates Oatly's oat milk? Oatly can be considered a mass-market oat milk brand, available in supermarkets around the world. "We have years of experience and scientific research on our side," says Ishen Paran, Oatly UK's general manager. "After being founded in the 1990s, we've continued to use our patented enzyme technology to create a broad range of foods designed specifically for humans."
Thingtesting is a database of internet-born brands. We're building the un-sponsored corner of the internet where consumers can come together to talk honestly about new things. Read more about Thingtesting here.
Create a free account so you can make your own lists, whether that's because you love them or because you want to try them.
Feedback? Yes, please.