Why are brands building on the blockchain?
NFTs and digital ledgers aren't just good for digital artworks and cryptocurrencies. A number of brands are finding ways to marry blockchain technology with the sale of physical products.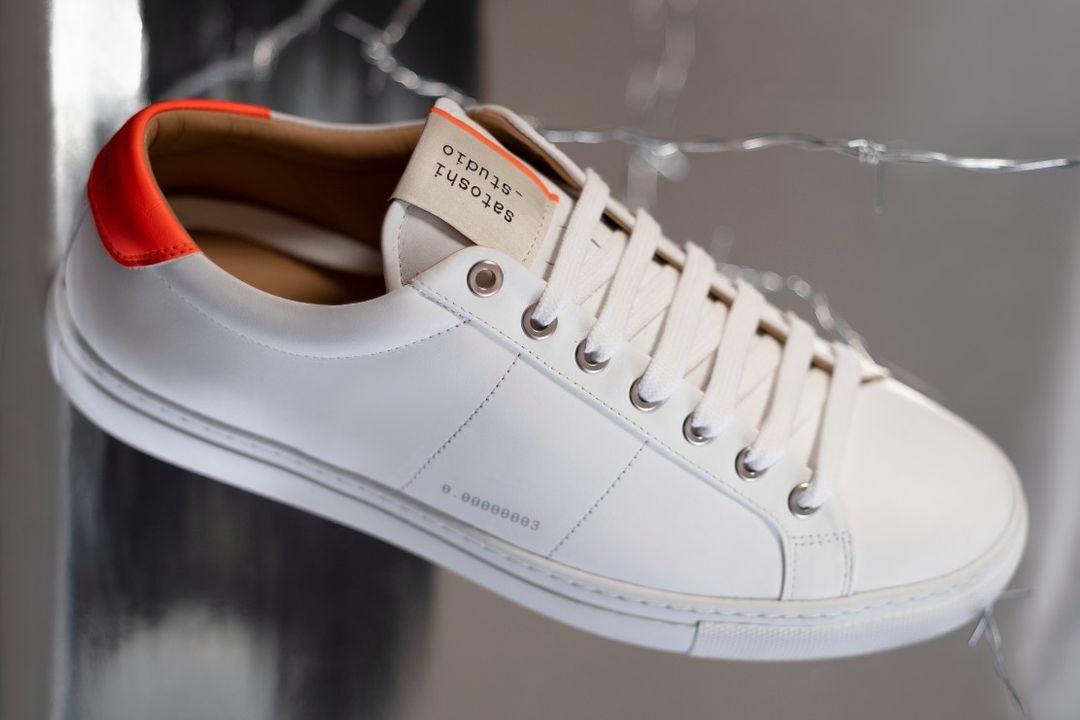 Satoshi Studio, a sustainable sneaker brand based in Paris, is about to launch a new marketplace. In two weeks time, the Futures Factory MVP will be up and running, and it will allow sneaker designers to sell digital versions of their upcoming physical products.
It's pre-selling meets NFTs (non-fungible tokens) – and Satoshi Studio thinks it could be a game-changer when it comes to financing production in the $79 billion sneaker market.
"The goal of this project is to change the ways brands presell and to create a new revenue stream for designers by allowing them to sell virtual-only sneakers," Satoshi Studio's founder Nicolas Romero explains. "It's a way for them to put their products and creations in the hands of consumers, and make it more tangible."
While Satoshi Studio has certainly picked the right moment to launch an NFT-based marketplace - non-fungible tokens are currently experiencing a flurry of hype following the $69 million sale of a Beeple digital artwork by auction house Christie's last month – it has been playing the long game on blockchain technology. In 2019, the company, named after Bitcoin's founder Satoshi Nakamoto, became the first company ever to "build sneakers on the blockchain."
Brands on the blockchain
Blockchain is essentially a digital ledger that tracks the events or transactions that take place in an asset's lifetime. That can be a digital-only asset (such as an NFT or a cryptocurrency) or it can be linked to a physical product. Most importantly, once a record has been approved and added to the ledger, it becomes immutable, meaning it can't be changed or tampered with. Think of it as authenticated transparency.
Each Satoshi Studio sneaker has a QR code that links to a unique digital identity. Scanning the QR code not only provides proof of ownership and authenticity, but it also gives customers access to information about the shoe's materials and suppliers.
"We thought that [blockchain] could be a solution to counterfeiting, and also bring more transparency to the industry," says Romero.
Satoshi Studio is not the only brand experimenting with ways to enhance the experience of buying and owning new products through blockchain technology. Arianee, a French software-as-a-service startup, has been working with luxury fashion houses since 2017 to provide NFT-based ownership certificates. It also works with a number of smaller brands, including Satoshi Studio and RSVP, a French accessories label that sells limited-edition products.
Blockchain is the platform, Arianee's cofounder Pierre-Nicolas Hurstel says, and it's up to brands what they do on top of it.
"It's like a graphics card if you want to play a video game," he says. "What we're trying to do is enrich the experience of owning these goods and the things you can do with them, through a digital twin."
Blockchain meets supply chain
By scanning a QR code or an NFC (near field communication) tag, blockchain technology can give owners access to all sorts of information about a product they've purchased.
Several brands are using the technology to bolster their sustainability credentials. Provenance – a UK-based business founded in 2013 that creates digital passports for physical products – is utilizing blockchain technology to track product supply chains and verify brands' sustainability claims. It works with a number of brands and platforms, including Cult Beauty and direct-to-consumer dog food brand Marleybones. Partnered with Everledger, Taylor & Hart became the first jewelry brand in the UK to create a ring using blockchain-tracked diamonds.
Each sweater from knitwear brand Sheep Inc. has an NFC tag attached, which can be scanned to reveal details about the product's carbon footprint and manufacturing journey. Each sweater is also linked to a sheep on the New Zealand farm where Sheep Inc. sources its wool.
Blockchain for physical products
Although blockchain might allow brands to unlock unique digital experiences for customers, questions still remain around how useful this is for consumers. In other words: beyond providing behind-the-scenes information about a product, is there a better use for these digital passports?
Arianee's Hurstel and Satoshi Studio's Romero believe that blockchain and NFTs could become an important tool for resale marketplaces, by storing information such as authenticity certificates and the number of times an item has been repaired (and how). Instead of relying on a platform like StockX or Vestiaire Collective to validate the authenticity of secondhand sneakers and clothes, what if an old-fashioned QR code could do it for you?
Thingtesting is a database of internet-born brands. We're building the un-sponsored corner of the internet where consumers can come together to talk honestly about new things. Read more about Thingtesting.
Create a free account so you can make your own lists, whether that's because you love them or because you want to try them.
Feedback? Yes, please.