Why cannabis brands get a holiday sales bump, too
Green Wednesday — the day before Thanksgiving — is one of the biggest sales days of the year for brands selling cannabis products.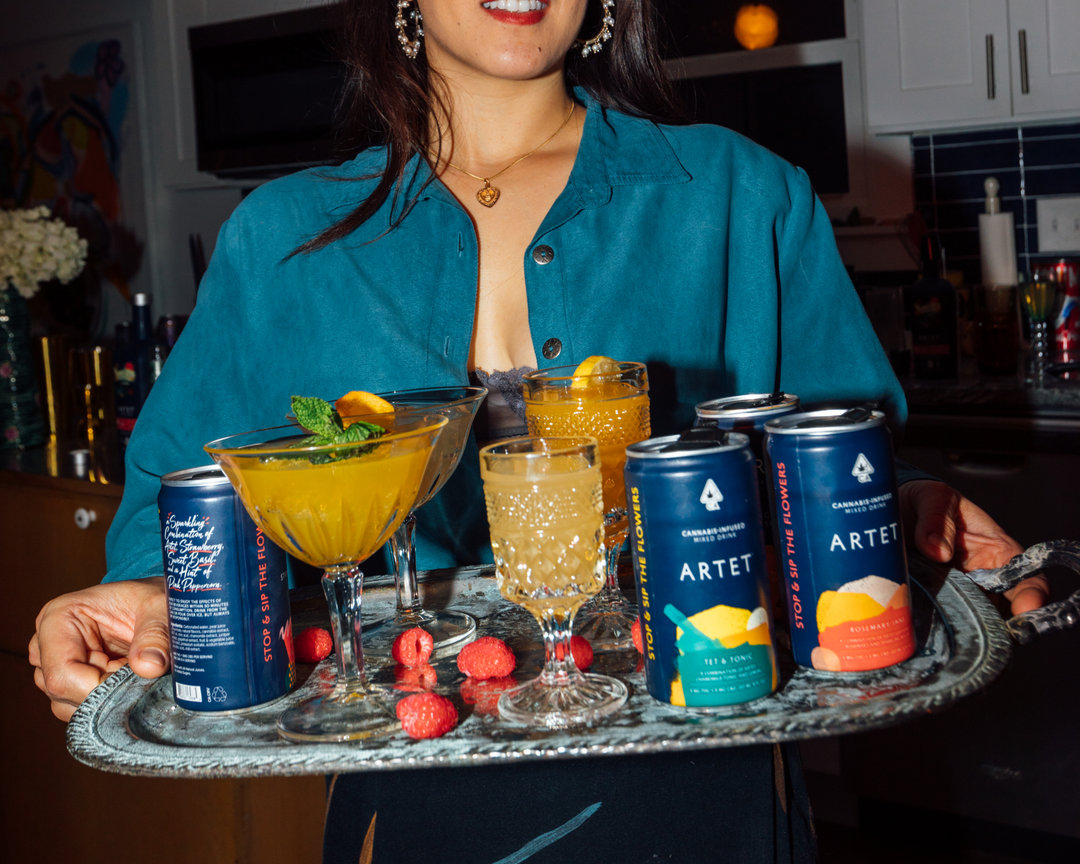 In the days following Black Friday and Cyber Monday, news reports dug into where shoppers were looking to get great discounts. But it wasn't just homewares, electronics and pots and pans that were flying off the shelves that week — cannabis sales were also lighting up.
The day before Thanksgiving — November 23rd this year — is one of the biggest sales days of the year for cannabis products, beaten only by 4/20. This year, a record $116.4 million was spent on cannabis products on "green Wednesday," up 16% on last year's figures. (4/20, by comparison, brought in $154.4 million.)
According to data from Headset, reported by AdWeek, sales of topical cannabis products were up 15.7%, cannabis-containing beverages up 13.2% and edibles up 6.1% in seven U.S. markets surveyed.
"Green Wednesday and the days leading up to and after Thanksgiving were our best period from a velocity standpoint in 2021," says Xander Shepherd, the cofounder of Artet, which makes an aperitif-style drink containing THC and no alcohol, adding that sales figures were up "by a factor of five or six" compared to other points of the year. Data so far for this year indicated a similar bump in sales.
Why do shoppers want weed on Thanksgiving?
The reason shoppers end up spending more on cannabis-containing products at this time of year, he says, is because of the number of social gatherings people typically attend at this time of year. In the same way someone might reach for a drink, cannabis can help take the edge off — and it can be particularly helpful if dealing with any kind of holiday stress.
Shepherd also says that consumers are keen to see discounts in the segments of the cannabis category that are considered expensive — bougie edibles, skincare products and aperitifs such as Artet's could all be considered to fall in this category. "We're a brand that's a premium cannabis brand, and we're thoughtful about how we put our brand on promotion," he says. "So [in the run-up to Thanksgiving], we're creating some kind of relief in a category where there's plenty out there talking about the expense of cannabis due to high taxes and [other] challenges."
But it's not just discounts drawing shoppers into the category. Shepherd says that, based on data from previous years, Artet expects sales to remain elevated until New Year Eve — which was Artet's biggest sales day in 2021. According to 2021 data from Headset, sales of cannabis products were up 17% in the final week running up to Christmas in the U.S., and up 26% in Canada.
According to a survey by Ayr Wellness that took place in October, cannabis consumers like to stock up on products in the run-up to end-of-year celebrations to make sure they have enough to share with friends and family — with 70% of survey respondents citing this as a reason why they were buying. Other data from the survey found that 65% of respondents planned to use cannabis over Thanksgiving in order to cut down their alcohol intake, while 24% said it would help them to deal with family-related stress.
As the popularity of indulging on Thanksgiving grows, brands are trying to make the most of this sales moment. While discounts and promotions are the obvious route to winning over shoppers, some are going the extra mile. This year, cannabis edibles brand Kiva teamed up with THC soda company Cann to launch a limited edition turkey gravy — containing 10mg of THC per serving.