Truffle takeover: Why are luxury ingredients like truffles so popular with pantry brands?
How can brands making truffle flavored hot sauce and mac and cheese dabble with such an expensive ingredient?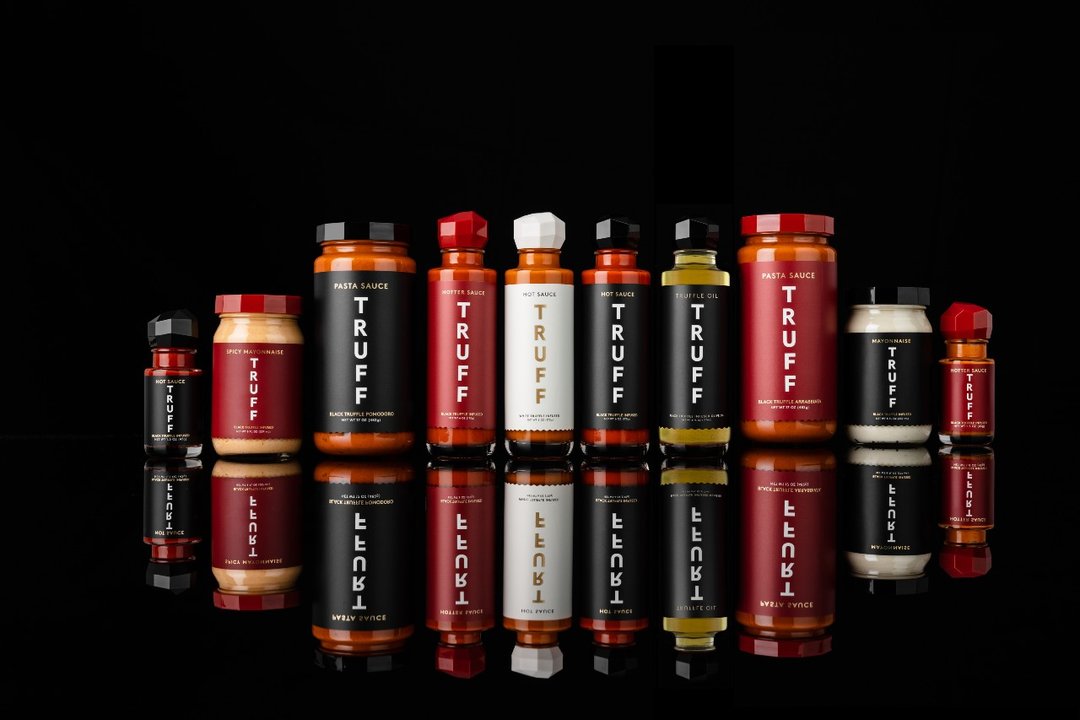 Truffles are expensive, highly sought after and — despite this — increasingly popping up on pantry brand's ingredients lists.
Truffle hot sauce brand Truff launched in 2017, and has since gone on to become a celebrity favorite — it counts Oprah and Kris Jenner among its fans. During the pandemic, the brand says sales rose 400%. When boxed mac and cheese brand GrownAs* Foods launched last December, it did so with two options: plain and truffle flavored. In November, U.K. burger chain Honest Burgers launched its first limited-edition truffle burger — made using white truffle mayonnaise from three-year-old brand Truffle Guys.
According to Rikki Constantinou, Truffle Guys' cofounder, casual dining outlets were the ones who kicked off mass-market interest in truffles — adding Aspen fries and truffle pizzas to their menus at relatively affordable price points (it's a treatment fancy ingredients get every now and then — before truffle fries, it was wagyu beef burgers). "You go into a pub and you'll see truffle mash on the menu where once upon a time that wouldn't have been. It became trendy," Constantinou says.
But truffles aren't without their challenges. As a commodity, the price of truffles can fluctuate month-to-month due to factors such as demand, the amount hunters can find, and weather conditions. Constantinou notes that as demand has increased, supply has become constrained, driving the price up. According to Bloomberg, white truffle prices hit $4,500 per pound last year; in 2019, they cost between $1,100 and $1,200 a pound.
Brands have to take this into account when calculating margins, in order to ensure they won't be running at a loss in a worst-case scenario.
Constantinou says that Truffle Guys always models the worst-case pricing scenario when developing products, to make sure it doesn't get caught out. And not all products need heaps of truffle to make them taste delicious, anyway. Mayonnaise, for example, can only handle a small amount of truffle; too much, and it can end up tasting "muddy" and unpleasant, Constantinou says. For a mustard, on the other hand, more truffle is needed to stand up to the fiery flavor.
The truffle supply chain is evolving in the face of these challenges. While Truffle Guys sources its truffles from Italy and France, Constantinou says that a number of countries are trying to boost their truffle-hunting reputations. Croatia and Greece both market themselves as trustworthy truffle destinations, while Australia, with its opposite seasons, is becoming popular with truffle producers looking to secure year-round supplies.
Then there's the much cheaper option of not using truffles at all — most truffle oil, for example, uses flavorings rather than the real thing.
Fresh truffles don't last long, even in oil, making such products a necessity as well as a cost-cutting measure. Constantinou says there are reputable sources where truffle oil can be sourced from (he is tight-lipped about where Truffle Guys gets it).
Still, the ingredient isn't without controversy, with chefs shunning cheap analogues and lawsuits even challenging the use of them. In 2017, a case was brought against Trader Joe's by consumers upset that its 'black truffle flavored extra virgin olive oil' didn't actually contain truffles. The court dismissed the claim, concluding that no reasonable consumer "would expect the $4.99 bottle of olive oil at Trader Joe's to contain actual truffles."