Meet Amy Mazius and Davy Greenberg
Each week, we check in with a different member of Thingtesting's community to ask what brands they've spotted, what they're testing, and take a peek into their recent reviews.
This week's dual-feature is Amy Mazius and Davy Greenberg. Together, they are cofounders of metahaiku, a creative studio based in Los Angeles. Read on to discover the brands they have recently spotted and everything else in their current rotation.
Know a tastemaker who loves to try new things? Submit their name here.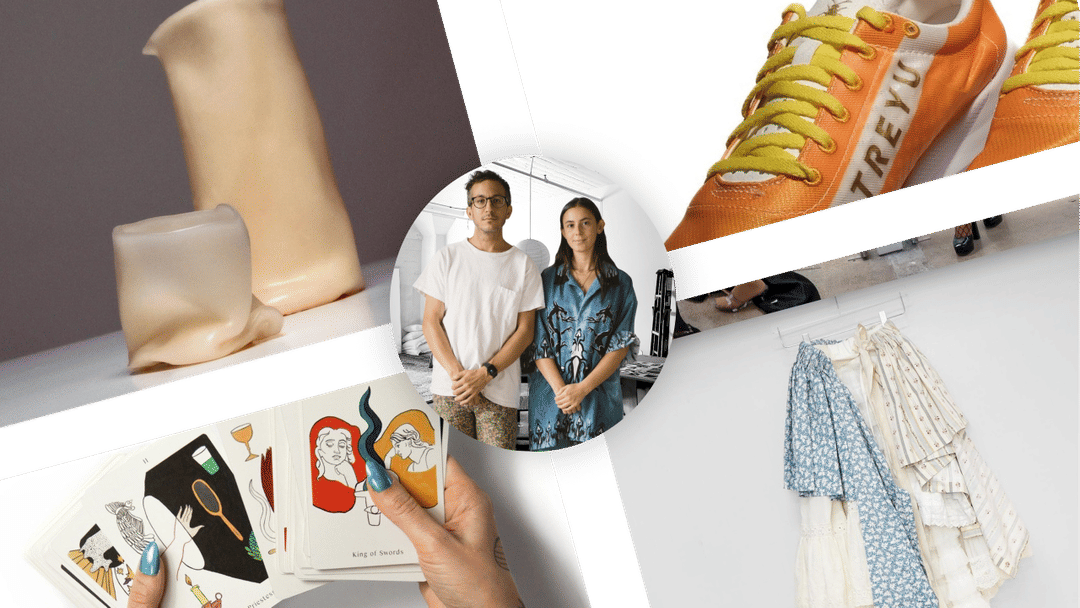 Hi Amy and Davy, please introduce yourselves.
We're Amy and Davy, co-creators of metahaiku, a small but mighty creative studio based in Art's District, Los Angeles. Our studio is a place for us and others to explore creativity and express our values: conscious construction, art for all, and sustainable living.
What are some brands that you've recently spotted?
Cafe Forgot curates quirky one of a kind slow fashion finds.
Ann Vincent creates hand poured candles in small batches in Spain.
Bobby Cabbagestalk makes emerging slow fashion technical apparel.
Amy's Brands:
Ephemeral. I'm really into these, they fade after a year so I got a big Bugs Bunny and an angel.
Christopher Kane. My morning coffee ritual has been upgraded with a *special* mug from Christopher Kane's More Joy.
Bala weights for my workouts with Sweat with Bec - they are my favorite.
Mary Elizabeth Evans. My friend Kazlynn (definitely my Spotter for all things clean wellness) put me onto the Iris Oracle tarot deck by Mary Elizabeth Evans.
Davy's Brands:
Maurten. Right now, I'm training for the New York Marathon so I'm really into performance aids. I'm loving my Maurten gels before and during runs.
Atreyu. I'm really excited about footwear brand Atreyu coming out of Austin, TX.
Koreatown Run Club. Catch me wearing Koreatown Run Club merch on the daily.
What's a brand that you've recently tested?
What need has launching your studio, metahaiku, fulfilled both within your own worlds and your greater community?
For us, metahaiku is all about keeping our minds busy and our hands dirty. Our first purchases for the studio were power tools. We bonded over our fear that our digital lives were overtaking our real lives and this was an opportunity to immerse ourselves in something that we could touch.
Our studio is entirely plant-based and we build everything ourselves–anything we can't is vintage or upcycled. We hope to show that good design and happy living doesn't have to mean consuming the most or the newest.
Describe your perfect Saturday or Sunday in LA?
Everyday is Sunday at metahaiku. It always starts with a good cup of coffee. We love getting an early start at the studio, but make time to stop at Millie's for vegan pancakes or bagels from Maury's. Laying out old magazines and pictures keeps us inspired - sometimes the sewing machine pops out or an impromptu furniture building project rears its beautiful head. Project a Tiny Desk concert on the wall; Davy will catch a sunset run and Amy likes to stream The Class. Post-workout taco truck run is critical before settling in for the NYT crossword puzzle–up til Thursday. Nothing says success like a 9PM bedtime.
What else is in your current rotation?
When we're not bingeing the Marvel Cinematic Universe, we're trying out new pickling techniques, experimenting with the sewing machine, and shooting friends on film. If we need a break in the action, the Mak Center always is a reset.
Who are some spotters in your community who you look to for new things?
There are definitely people we look to for inspiration when it comes to holistic living and aligning with our higher purpose. Shout out Rich Roll and Julie Piatt, who are not only our friends but #relationshipgoals. Pojo (aka Phoebe Joseph) always puts us on to the vegan heat and keeps us current. Amy's niece Lola is 4.5 years old and reminds her to stay playful and add sparkles.
Spotted on Amy and Davy's DIY work table at metahaiku...