Reviews
Peekaboo Ice Cream
Experience
I am HOOKED on Peekaboo's Mint Chip flavor. While Peekaboo is the "ultimate parenting hack", it is also an amazing option for any ice cream lover. Coming from a picky eater, the advertisements don't lie...you actually can't taste even a hint of anything veggie related. PROS -Creamy texture that melts perfectly in your mouth -Super easy to get a serving of vegetables while satisfying your sweet tooth - Easy to use website -Sold on Amazon -Sold at popular supermarkets -No GMOs -Kosher -Real ingredients I definitely will be ordering Peekaboo ice cream again!!
Feedback
Peekaboo could improve by adding another flavor.
High quality
Innovative product
Cool look & feel
Worth the money 💸
Tasty 😋
Amazing website
Sustainable products
Love the brand's mission 💕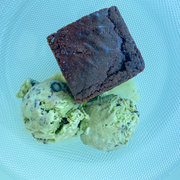 Away
Experience
I love the bags because of the charging case and area, but the bags scratch very easily.
Feedback
Needs to survive check in at the airport without scratches. The material needs to be worked on.
Innovative product
Cool look & feel