Wype
Wype makes a gel-based product to be applied onto toilet paper, offering a sustainable alternative to wet wipes.
wypeuk.com
Average rating from 1 user
How about life changing? 2 sizes available. PH Balanced, no parabens, fragrance free, vegan, cruelty fre. This gel has decluttererd all biodegradable wypes I've tried, because I don't need wypes anymore. At home, in the office, traveling... My personal daily higiene is just wype. I missed my European bidets but I hate small toilet showers. After a year of Wype, I just get refills and the recycle the empty bottles because the caps are amazing and truly reusable. Wype on the go... Feeling and knowing I'm clean and fresh makes me happy.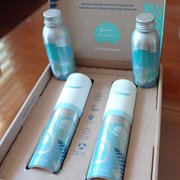 ---