Average rating from 2 users
Wobbly Dobbly Puzzle Co. Reviews
All

2
A Sunny Sunday

1
Mr. Beary's Bakery

1
Influencer for Wobbly Dobbly Puzzle Co.
This puzzle was SO much fun to complete! It's a rare day when I nearly finish a 1000 piece puzzle in one sitting. When I stopped with this one, I only had a handful of pieces left and they were almost all the wallpaper (plus a few picture frame pieces). All the patterns made this incredibly fun and easy to sort. Speaking of sorting, I stepped slightly away from my norm and put some pieces together while sorting. I absolutely started with the stack of books followed immediately by the cats. (Confession, I am not a huge fan of cats on puzzles but there are always a few exceptions.) From their website, the company is: "woman-owned company that was born from the desires of co-founders Sophia Kabalan and Natalie Sala to turn their love of illustration and puzzle-making into a business that could help others unplug and reconnect with the people that matter most in their lives." And when you look at the style plus the extras included with the puzzle, a small poster and drawstring canvas bag, it's clear to see this was created by puzzle lovers. The artist and co-founder, Sophia Kabalan, is an avid puzzler who is deeply inspired by vintage children's books and Parisian illustration styles. From the moment I started looking at the pieces, I could tell the artist understands what works as puzzle art.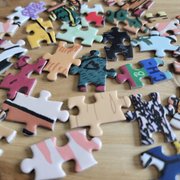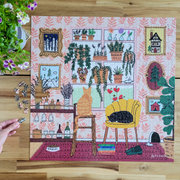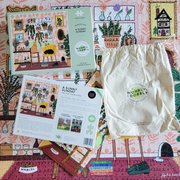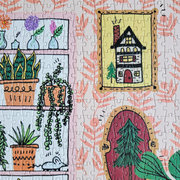 ---
These puzzles are IT. They're all hand illustrated so they look v unique, even on my bookstand. I have the puzzle called "Mr. Beary's Bakery" and it was such a pleasant couple of days building it. I've been trying to get some off-screen hours back into my life and this has been such a nice way to decompress and get my chill time on. Plus, anything with pastries on it, I need! Oh and dogs, lots of dogs!
A Sunny Sunday
Mr. Beary's Bakery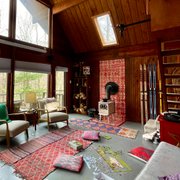 ---