Average rating from 34 users
83%Recommend to a friend
Whisps Reviews
All

34
Whisps Cheese Crisps

1
Making homemade cheese crisps just got a whole lot easier with Whisps. The perfect alternative to your typical crouton, Whisps crisps are just cheese, adding a savory, crispy bite. In a variety of cheeses and flavors, these are a delicious salad topper or snack straight out of the bag.
---
Tasty, high protein snack for when you want something savory, but somewhat healthy. I love the flavor options, although parmesan is my favorite. Great alternative to chips.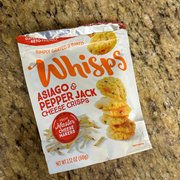 ---
---
Whisps are the best little parmesan snacks I've ever tasted. I love to add them, in place of croutons, to my salads. I just wish there were more in the bag, for the price....but I still buy them because they are so delicious.
---
What is Thingtesting?
Thingtesting is an unbiased place to research and review internet-born brands — because honest reviews help us all shop better. Learn more.
---
So tasty. I wish they made bigger bags. Great consistency and taste.
---
Not my favorite, but they are so addicting. The cheese holes are sooo fun in each of the crisps.
---
This snack is absolutely delicious for those on the go! The flavors are really tasty, although I do wish the bags came with more chips. But hey, despite that, I'm totally hooked on them!
---
I love these so much! I think the parmesan is my favorite, but the cheddar and pepper jack aren't bad. My kid loves the cheddar and parmesan crisps too so they are a school lunch favorite.
---
Can't get enough, I use it in place of croutons and when I'm in need of something crispy to munch on. So far I love all the flavors I've tried so far (classic part, ranch, asiago pepper jack*absolute favorite*)
---
These are so good when you toss them in your salad to give it a nice little crunch, and some extra flavor
---
Their cheese crisps are delicious but pricey for the amount of chips you get per bag - even when we went to Costco to buy them. These are definitely a treat but it's not something we can stock regularly in our pantry due to the price. If you haven't tried them, I would recommend trying them at least once just because they are flavourful.
---