Average rating from 5 users
100%Recommend to a friend
I tend to avoid rubbing stuff on my body because I often question the efficacy of topical creams and I don't like to feel greasy, but Weedsport totally changed my mind. First, the efficacy: This stuff works. My shoulders have been achey for (what feels like) a decade, and after a week of rubbing Weedsport in before bed, the aches are gone. Total game changer. As for the greasy feeling, their new stick is the ultimate application. It's super convenient because it lays down a light layer exactly where I need it, and that layer rubs in immediately. I love the stick!
Feedback
TBH, no changes needed.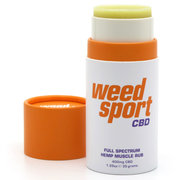 ---
Extremely happy with all my weedsport purchases, this brand lives up to the hype!
---
---
I have been using Weedpsport products since they launched and have always been impressed with their products. They are a fantastic alternative to what's available. I used to use blue emu but was always put off by the ingredients. Haven't touched it since I started using the CBD muscle rub. Honestly, I was always skeptical about CBD products but have never been happier to have been proven wrong. Aside from working, it also just smells great.
---
What is Thingtesting?
Thingtesting is an unbiased place to research and review internet-born brands — because honest reviews help us all shop better. Learn more.
---
Clean and Great product, completely different than what is on the market. Always use WeedSport after every intense workout, also great before hot yoga. Love to put it on after an evening shower, helps me get straight to sleep. Love this stuff.
---
The DUNK CBD muscle soak is a huge part of my recovery routine. It smells super good and unlike many CBD products I've tried in the past, this stuff actually works.
---