Average rating from 50 users
100%Recommend to a friend
Tweezerman Reviews
All

50
tweezers

7
Slanted tweezers

3
all

2
The gold standard for tweezers. I love my tweezerman tweezers and really can't see myself switching for any reason.
---
I know the price is pretty steep for a tweezer, but truly cannot be without my tweezer mans they just work so good for so long!!! this is what I would strictly use for doing all my friends eyebrows in high school
---
---
I love these tweezers. These will be the only ones I will use in the future. I like that they're thin and slanted, easy to pluck the hard to get hairs. They're precise, no accidental over plucking. They grip the hairs a lot better than other tweezers, making them more effective. They're more expensive, but they last for years. I would definitely buy again and I would recommend.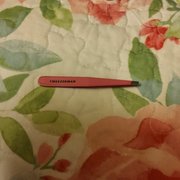 ---
What is Thingtesting?
Thingtesting is an unbiased place to research and review internet-born brands — because honest reviews help us all shop better. Learn more.
---
Classic staple in any household. These tweezers are well made and last for forever if you maintain them. High quality, easy to travel with and precision like none other!
---
I have too many of these tweezers to count. By far the best-made ones I have found, and love the variety of sizes, shapes, and colors to choose from. And they last forever.
---
They're a classic for a reason! I have Tweezerman tweezers that I've owned for years that still work perfectly. When it comes to tweezers, these are the best of the best.
---
The best tweezers ever. They last you a really long time and have great grip! Love the colours, always have a few handy.
---
Great product! I've been using these for years and am never disappointed. I have a couple of full-sized tweezers and some smaller ones. I've purchased these for friends as well.
---
My go to tweezers - I have the full size as well as two travel pairs with the sleeve. I always have a pair on me, in my car, travel bag & medicine cabinet. I find that they work so well and are easy to grasp even the most difficult hairs!
---
Best money I've spent. Other brands just don't live up and I pinch my skin.
tweezers
all
Slanted tweezers
---