Average rating from 2 users
Felt more like a lip oil; was pigmented and stained the lips, but was extremely runny and dripped/moved around a lot. Wouldn't recommend.
---
I really like Treslúce's lip glosses! My favorite is the 'Lips B Like...Luscious' lip gloss. It is sparkly, pigmented, and the perfect shade if you have a darker skin complexion. This lip gloss also smells really good and leaves my lips feeling soft and moisturized. Bonus point―the lip gloss is vegan-friendly!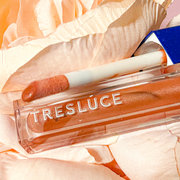 ---