Toodaloo
3.58 • 12 Reviews
Toodaloo makes a variety of trail mixes packed with superfoods and infused with adaptogenic herbs to heal the body.
toodaloo.com
Average rating from 12 users
55%Recommend to a friend
Bought Smoke Show at a discount from Martie and I'm glad I didn't pay full price. It doesn't taste like BBQ anything. It's just salt, with a teensy bit of smoky flavor. The crunch is great. I like the combo of seeds and almonds with crunchy chickpeas. The addition of walnuts was weird though. They're just too soft and fatty for the rest of the bunch. It felt like Toodaloo had a good concept with this one, but threw up their hands on how to follow general food/flavor conventions while staying low-carb. Salt, fat, acid, heat can still apply to a trail mix. The seeds and almonds take care of the fat. There's already plenty salt. They just need to figure out the sweet or tangy for the acid. Or maybe go spicy since that works with BBQ too.
---
Received a free product from Toodaloo
I tried two flavours of Toodaloo. Hot to Trot and Turning Heads. Turning Heads was my favourite of the two. It's essentially a chocolate flavoured trail mix. The chocolate clumps the mix together a little in a really pleasing way. Taste-wise the flavour took a while for me to warm to it, but after a few servings I loved it. Chocolately, but not too sweet, and you can still taste the other trail mix elements. Hot to Trot though was okay, but I wouldn't go out of my way to buy it again. The mix of citrus and tumeric was just too weird for my tastes.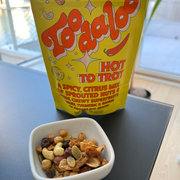 ---
---
Received a free product from Toodaloo
I had the Slow Your Roll flavor and it was okay! I think it was a tad too sweet and chewy (the kind of sticky that's like now I got trail mix stuck in my molars for hours jafeel?). The flavor was pretty good. Can't speak to the adaptogenic ingredients - don't think I felt any effect, especially after one bag.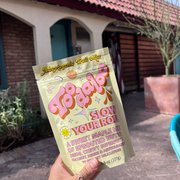 ---
What is Thingtesting?
Thingtesting is an unbiased place to research and review internet-born brands — because honest reviews help us all shop better. Learn more.
---
Received a free product from Toodaloo
I tried the "Smoke Show" flavour. It was ok, but not great. Lacking something.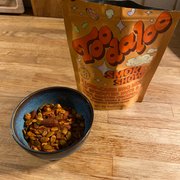 ---
Snagged these at Neighbourhood Goods and was immediately drawn to the packaging. Purchased the hot to trot and it lived up to its name because boy was that ish fuego- absolutely loved it. Definitely will order this again.
Feedback
not sure i felt the adaptogens but maybe because i need to eat more idk
---
Received a free product from Toodaloo
I didn't really like these all to much. The smoked variant tasted off to me. I didn't enjoy the consistency of the roasted chickpeas, especially combined with the smoked taste. I also tried the "Slow your roll" variant and liked that more. The taste still had me wondering what was wrong with a regular trail mix. It is supposed to do a lot of good stuff to your body and the company's "Nothing Artificial" speaks to me. Just wish it tasted better.
Feedback
I love the brand mission, but the taste isn't for me. Would like to try a new flavour in the future.
---
I love the packaging and mission behind Toodaloo!! I've only had a chance to try Turning Heads and devoured the entire bag in two days...need to get my hands on more flavors.
Feedback
I have a sweet tooth, so the more sweet flavors the better, in my book!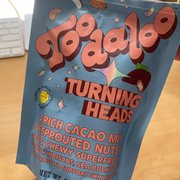 ---
I absolutely love these trail mixes. The flavor combos are crazy good, the packaging is cute and the ingredients are top notch. I had a great experience ordering online and get excited every time I see them in stores!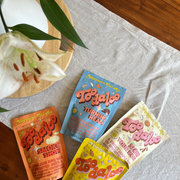 ---
TOTAL SCAM. They "shipped" a "free sample" and when it never arrived they refused to refund the $5.95 charged for shipping. As I think about this, if what I was sampling was a collection of four bags of trail mix, it's total garbage. I didn't notice at first that the bags are ONE OUNCE each.... that's like a scrap. Six dollars for four ounces of trail mix is a total ripoff. I tried to reach out to many friends and it turns out someone I know also fell for this scam; she did receive her "bags" which as suspected were about a spoonful total. Don't buy into that "free" samples because $5.95 more than covers the cost of the product even with shipping; these people should be indicted on fraud charges.
Feedback
DO NOT FALL FOR THIS SCAM. JUST DON'T.
---
The product is so delicious. Could eat a whole bag of Hot To Trot in one sitting.
---