To Øl
To Øl Beer makes a wide range of craft beers.
toolbeer.dk
Average rating from 2 users
To Øl have a pretty eclectic range of beers. Specifically, one of my usual go-to midweek beers is the House of Pale pale ale. It's refreshing and well balanced New England pale ale. For me it's the perfect balance of taste and price. It's now even available in supermarkets across Copenhagen. I've also enjoyed most of To Øl's, but my favourites are Whirl Domination IPA, 45 Days Organic Pilsner and Snubble Juice.
Feedback
I'd love to see more options in their beer club - honestly 6 beers a month is never enough for me!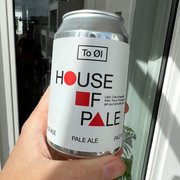 ---
Regularly enjoy To Øl beers and are always very happy with them! They are always of high quality and as a sucker for good branding, their neat can and bottle styles don't hurt. My favorites are their sours, Gose to Hollywood, City Session IPA, and the non-alcoholic Implosion!
Feedback
Having some more eco-friendly alternatives!
---