Teatis
5 • 1 Review
Teatis creates powder tea mixes using brown seaweed extract and all natural ingredients to support low blood sugar levels.
teatismeal.com
Average rating from 1 user
Just wanted to compliment this wonderful company and the snack service. I am very impressed with my healthy snack box, Teatis really listened to my likes and dislikes and I could have not picked out a better box myself ! This is wonderful. Thank you !!!!!!!!!
Feedback
I love the brand & mission, also you should read founder's story how this service began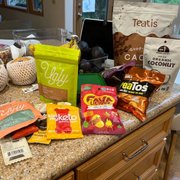 ---