Average rating from 66 users
Target Reviews
All
goodfellas tee

1
men's athletic shorts

1
Drive up

1
Womens

1
Kid's

1
I think they've brainwashed me but I love Target. What could you possible need that isn't being sold in a cute and fun way at Target? Nothing.
---
The literal only thing that's "wrong" with Target is that they sell too many great products & I always end up leaving Target with more than I anticipated buying. They seem to have everything I need at such a great price point. Target is one of my all-time favorite stores & they always seem to be very organized in-store.
---
---
One of the best stores. Get everything you need in one place. Enjoy a Starbucks while you fill up your cart with some things you need and some things you don't. Great prices. Great return policy.
---
What is Thingtesting?
Thingtesting is an unbiased place to research and review internet-born brands — because honest reviews help us all shop better. Learn more.
---
Going to target isn't just a state of being, it's a state of mind.
---
When I die, spread my ashes in Target. Best store with great deals. When I lived in rural Ohio, I would drive an hour to the nearest Target. It's that good.
---
Always convenient. I wish the bathrooms weren't so gross at every target though. I like the target brands.
---
I am a HUGE fan of Target's pickup from your car. It makes my life so much easier, and probably makes me spend more money because I'm just constantly placing pick-up orders
---
Ok so I'm writing this review because I love target- and I always just assumed groceries there would be over priced but I've actually found better deals on prices there then Kroger! This is a win/win for me because I hate grocery shopping but don't mind shopping at target. Also they have some pre made meals/ meat in the deli section that make meals that much easier
---
Quite possibly my favorite store. Where else can you get well priced, good quality groceries, clothing, electronics, household cleaning supplies, and housewares all in one convenient trip...also with a Starbucks in the front?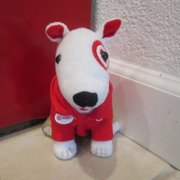 ---
Target!! whats not to love. Target is genuinely a happy place. I like that they are making it feel like a department store in some ways. It feels safe, well organized, I can try on a bunch of clothes, look at home goods, grab a snack, and peruse the beauty section. Plus most have a starbucks? Genuinely whats not to love.
---