Average rating from 3 users
Affordable quality jewelry! I have several pieces including a ring, bracelet, and a couple necklaces. The pieces are so dainty, which is great for everyday wear.
---
Easy ordering and fast shipping. Item was accurate to the description.
---
---
I have the White Diamond Pave Huggie Earrings and the Tiny Pave Diamond Bar Necklace. The necklace is basically invisible and not worth the nearly $200 I paid. The earrings a lot smaller than what I expected. Given the price, I expected these to last me for a long time but the clasp on one of the earrings has become loose and I've almost lost it at least 6 times because it just falls out of my ear. Because of this, I can't wear the earrings anymore. I'm really disappointed because these were a splurge for me. Based on the longevity of these $330 earrings the manufacturing was clearly not done well or there is another QC issue. I emailed their support about this and all they did was send me a pointless video about applying enough pressure to clasp the earrings. I think I know how to clasp earrings. I would not recommend. Picture attached with the necklace and earrings on.
Feedback
Pricing should reflect the actual quality.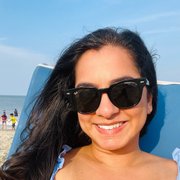 ---