Average rating from 50 users
87%Recommend to a friend
I hate how perfect it is. My sister sent it to me in rose quartz and I feel like I am turning into a suburban mom with every sip. It really has changed my life. I once fancied myself a cool NY mom, but not anymore. Now I have a Stanley Cup. AND I LOVE IT. I drink so much water.
---
always live up to their promises of keeping things hot/cold an go brand that deserves the hype
---
---
I love my Stanley cup, don't get me wrong. The colors are so fun, they're a great size, and do a great job of keeping drinks cold. BUT, one false move and water leaks from the sides so I can't take it anywhere outside of my house! So a great WFH cup, but not functional on the move.
---
What is Thingtesting?
Thingtesting is an unbiased place to research and review internet-born brands — because honest reviews help us all shop better. Learn more.
---
I love my Stanely thermos, it's 1.1qt and it keeps my coffee hot for the entire day (and still prettty warm the second day). I use this everyday at work it fit's almost an entire pot of coffee. It's solid, can handle falls (unlike the ones with glass inside), and seals nicely to keep your hot coffee hot. Not sure if it keeps cold, cold but I imagine the same theory works. More affordable than that "other brand"!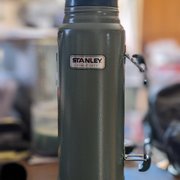 ---
This is our most used cup in our home! I originally purchased a Stanley when I was pregnant thinking that it would help me drink water throughout the day. It worked - and it continues to be my favorite cup after the baby! Each of our kids have their own Stanley's and I buy them all of the time as gifts for friends, teachers, and kids.
---
was on the fence about getting one for a long time, because I felt like I was buying into an overhyped trend. got one recently and it's actually one of the best things I've bought, practical wise. I am (was) a human cactus that drank 2 cups of water max per day (or I sustain myself on a singular cup of coffee), and I often can't get through a 250ml glass of water without a struggle. ever since I got one I've been drinking at least a full size per day, and it feels much easier for whatever reason
---
My hydroflask leaked & ruined my macbook, so I switched over to the Stanley line & so far I am very happy with it. I also love that this now fits in my cup holder in my car rather than sloshing all over like the hydroflask.
---
It's actually so worth the price, and I've never had an issue with spilling. Plus, I love that I have a unique color/pattern that no one else has and it gets tons of compliments.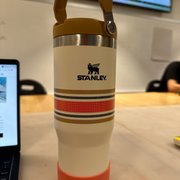 ---
I held out as long as I could. But these tumblers are flawless. I live in an un-airconditioned apartment, and this will keep ice in a drink for over 24 hours. I now own three tumblers.
---
I was absolutely influenced to buy my first Stanley ( yes there is now more than 1 in my house.) I got caught up and went from store to store after drops to get them as gifts. I have the older model 40 oz and the new model 30oz. I bring the newer model everywhere and it does get me to drink more water. To be honest, although there were improvements, it's a bummer that they are not spill proof. If it gets knocked over there will be water everywhere.
---