Average rating from 33 users
97%Recommend to a friend
love it! It really helps!
---
Not for me or an NYC tiny apartment bathroom.
---
---
Such a game changer with… really puts your body in the right position.
---
What is Thingtesting?
Thingtesting is an unbiased place to research and review internet-born brands — because honest reviews help us all shop better. Learn more.
---
A must-have in every household, period. I genuinely get upset now if I have to use a toilet that does not have a squatty potty and I am not joking when I say I have considered buying one for our work bathroom.
---
It's not something I currently use, but I absolutely got my money's worth from this product. It was a lifesaver while pregnant and then I kept it around as a step stool for potty training.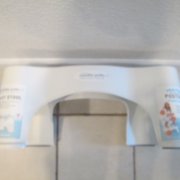 ---
I forgot I own one of these. I purchased it when I was pregnant to make things easier I like that it folded up and doesn't take up lots of space. Product works as advertised not much to explain lol
---
literally can never be without one now tbh
---
I wish it were mandatory to build these into toilets. Everyone - EVERYONE - should use these! Our bodies were not designed to have a bowel movement with our thighs at a 90 degree angle.
---
I don't have much to say other than Squatty Potty has changed my life. I can't go to the bathroom without something under my feet, ever. Thank you Squatty Potty!! (I just wish it was made of another sustainable material)
---