Sonos
Sonos wireless speakers bring every room and everyone together with incredible sound for music, TV and more.
www.sonos.com
Average rating from 31 users
82%Recommend to a friend
They really are that good. Incredibly high sound quality. And the app makes it easy to connect to Sonos speakers wherever you go.
---
It's great speaker but I wish I could connect it via Bluetooth like my other speakers. We bought the Model 5 and love it, the sound is incredible and it was super easy to set up.
---
---
My entire house uses Sonos. The quality is insane. Just wish the app was tiny bit better.
---
What is Thingtesting?
Thingtesting is an unbiased place to research and review internet-born brands — because honest reviews help us all shop better. Learn more.
---
Sonos make the best speakers!!! I have 3 of the Sonos Move & a few of the Sonos One for around my house. The setup process is a little tricky with pairing, but once you are paired, its super easy & the quality is great. I loved when they did their collab with Hay Design. I wish I could buy more Pink sonos!
---
We have four Sonos portable speakers—one for outside, three in the living room, and one sound bar under the main TV. It absolutely amplifies the sound and contributes to the audio being more clear. I was skeptical at first, but after waiting for a holiday sale my husband and I purchased and have only continued to be fans of the brand and product. The portable speakers have accessories to better integrate them into your room, like a stand that hides the cord.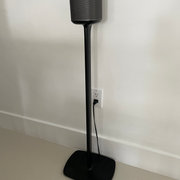 ---
I have one of these in each room. I find them great when they work properly, but sometimes it is hard to get it to play from your apps rather than the Sonos apps (you have to do the whole sync and unsync situation)... Otherwise sound quality is great and set up is easy.
---
Sound system is good, but the app makes me nuts. I can figure out how to add Spotify or playlists. It's just over engineered.
---
All of the audio in my house is powered through Sonos, and I've never had any issues with it. I really like the sound quality of sonos speakers
---
I've cant imagine a lfie without my Sonos... ok that's a bit dramatic but I've been a loyal consumer for at least a decade now and still love them. The sound bar has been the anchor of my living room and the sonos 1 is great for bedrooms
---
I've been using Sonos speakers for years now and have them in many rooms around the house. I think they're awesome. They sound great, the system is easy to use and most of the time, works great. When things don't work great it can be really frustrating and hard to know what to do to fix the issue, but luckily it seems to happen pretty seldomly for me.
---