Average rating from 15 users
77%Recommend to a friend
You get what you pay for and unfortunately these just add to the landfill. As a kid I loved Skull Candy, but they never lasted that long and typically when you buy cheap, you buy twice. Only good if you quickly need some headphones because you forgot your good pair.
---
Had a pair of their earbuds back in late 2000s and lasted for at least 5 years. While their sound quality is no the best, it is good for the price. As a bonus, Skull Candy has so many colour options.
---
---
I had a pair of SkullCandy corded headphones that lasted me 5 years before they were ran over in the street (that's what I get for shoving things into shallow pockets). The sound quality is great and I find that they fit really nicely into smaller ears. Unlike other headphones, they don't give me earaches after using them or leave sore spots from overuse.
---
What is Thingtesting?
Thingtesting is an unbiased place to research and review internet-born brands — because honest reviews help us all shop better. Learn more.
---
Not made to last, looks alright.
---
Spontaneously purchased a pair of earbuds at the airport on my way home a few years ago and haven't had to replace them or troubleshoot a single issue. Quality is absolutely phenomenal.
---
I have in-ear wired headphones from them - they work well and are comfortable. This is likely an unfair gripe, but when I had to upgrade my phone and lost the headphone jack, these don't work well with the adapter (usb-c to headphone jack). But that is likely more about the adapter than the headphones, likely. And my grousy old lady moment of "c'mon, enough with all the changes requiring us to keep buying more things...!"...
---
Worth the investment for the skull candy crusher evo x's they have some insane bass that litterally shakes your head. I have used it for the gym for a little over a year and cant go back to regular headphones.
---
Apple who?! I've been an airpod user for years now (1st gen and pros), but honestly I'm over 'em. The noise canceling has gotten worse over the years- I'm constantly being told to mute myself on zooms in coffee shops or coworking spaces and they're always dying in the middle of my favorite song. I went on my first podcast recently and saw the onboarding email the morning of which read in all capitals: PLEASE NO AIRPODS... finally I knew I wasn't crazy, but also that I had nothing else to use. I ran to my local Walgreens and searched the headphones wall. My criteria? Sub-$20, noise canceling (hi, upstairs neighbors), and not ugly. That was when I met a set of $17.99 string Skull Candy earbuds that plugged into the headphone jack on my computer. It was my first purchase from the brand since like 2009. When I nervously entered the virtual podcast "room" a few hours later and asked how my sound was, they immediately said, "excellent, what are those?" and my coworkers later commented the same when I used them in a zoom call. I haven't shut up about my Skull Candy earbuds since, in fact I'm using them as I type this. Best $17.99 spent ever.
---
I had a pair of pink earbuds from Skull Candy growing up and I remember that it used to be THE brand for speakers and headphones. I definitely bought into the AirPod game when they came out, and I do love the ones I have, but in retrospect the Skull Candy corded headphones I had lasted a really long time and I don't remember ever having to wrap the cord around or bend it in odd ways to avoid audio skips.
---
I absolutely adore this brand. I bought their crusher wireless headphones 4 years ago, and even after everyday use for the past four years, they work perfectly. The charge lasts 40 hours and only takes 3 hours to charge fully. I bought my dad a pair for Father's day and he loves them too.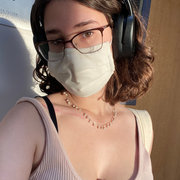 ---