Skkn
5 • 2 Reviews
Skkn sells a collection of skincare products created by Kim Kardashian.
What is Thingtesting?
Thingtesting is an unbiased place to research and review internet-born brands — because honest reviews help us all shop better. Learn more.
Average rating from 2 users
Skkn Reviews
Experience
ok so this is not a review on the skincare this is regarding the SKKN accessories. I purchased the cement trash can and the cement tissue box. Everything Kimberly does always is quality so I expected nothing less than amazing. It was exactly that, amazing! Solid design, beautiful feel and look amazing in my space. So many people think its overpriced and show me the target versions but they are junk in comparison to the quality of the SKKN.
Feedback
From the packaging to the product this accessory line was perfection. I am very happy with box the tissue box and the trash can, I almost don't want to use the trash can because it needs a bag so nothing stains it and it ruins the look.
High quality
Cool look & feel
Worth the money 💸
Fun unboxing 📦
Amazing website
Eco-friendly packaging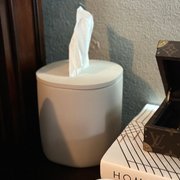 Experience
I think celebrity skincare lines can often be overlooked, but in SKKN's case, the ingredients are pretty powerful! This line was developed with esthetician Joanna Czech and feel wonderful! I had the opportunity to go to the store here in LA and try the products, and they were all great! Looks so cool on the counter too.
High quality
Cool look & feel
Worth the money 💸
Fun unboxing 📦
Eco-friendly packaging
Sustainable products
Luxury