Shinola
Shinola makes high-quality and lasting jewelry, paper goods, bags, accessories, and more.
www.shinola.com
Average rating from 10 users
100%Recommend to a friend
Shinola's products are for you if you value craftsmanship and a nod to "the old ways" of designing and building products. In general, you pay a premium for style over substance, but hey if you love style then Shinola products are great. Watches: Beautifully designed, plenty of options, but a bit overpriced for what they are, especially if you are in to watch collecting. I have picked up some great deals on quartz watches at Shinola's factory outlet, which is one of the few brand outlets that sell discontinued stock Leather goods: IMO, this is Shinola's bread and butter. I have had my backpack for 5 years, traveled extensively with it, and it's showing no signs of wear. Plenty of pockets and storage, and just quality through and through Notebooks: Another Shinola staple. Love that you can customize/monogram the notebooks and I really like that there are so many combinations of color, size, and format. Time to say bye-bye to your Moleskin. Headphones: Unfortunately, discontinued. BUT, I love putting these bad boys on. Are they the best headphones out there? No, but damn do they feel/look great and go great with a glass of scotch.
Feedback
Online shopping experience/website isn't up to par with the Shinola brand experience. I want to feel like I'm walking into the Shinola hotel when I land on your website and it just feels like any other website. Also, more options for monogramming online would be great!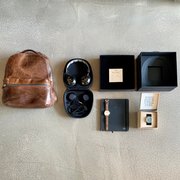 ---
---
I live in Detroit and have accumulated some staple pieces from Shinola in my time here. I don't usually care for leather products, but all of my leather goods are from Shinola and I am in love with them point blank. I have a tote, wallet, laptop bag and sunglasses case and all of these things are able to withstand any wear and tear I subject them to in my travels.
---
What is Thingtesting?
Thingtesting is an unbiased place to research and review internet-born brands — because honest reviews help us all shop better. Learn more.
---
I love gifting the journals to people and if you live near a store, getting them monogrammed is a nice touch!
---
My fiance bought me a personalized Shinola notebook for our first Christmas together a few years ago. It has a sturdy cover that has lasted for 4 years now and a sturdy spine. Definitely worth the price for a high quality product
---
I have some leather watchbands for my Apple watch that are beautiful and really elevate the watch.
Feedback
The brand is lovely, but you pay for that!
---
very high quality and attention to detail. Have some of their accessories and my father swears by their watches. A bit out of my price range though...
---
My wife gifted me the Shinola Argonite-5021 so it has sentimental value. But it's definitely been the best watch I've ever owned. It looks modern, yet classic. Has a solid heft to it. I loved that it's a nice watch that isn't showy. I can wear it with a suit or jeans and a T-shirt. I'm also a sucker for premium packaging and love the wooden box it came in. (I'm the type of person who keeps iPhone boxes for years after purchase)
Feedback
The Good - A premium, classic look - Stainless Steel/Navy/Brown leather works for any occasion - Nice heft to watch. Feels solid The Bad - Setting the time can be a pain–not intuitive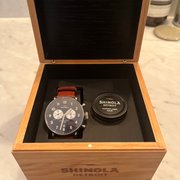 ---
Beautiful products. The watch I own from Shinola has been in good working condition for over 5 years. Plus, the staff will replace the old watch batteries for free at the store. Super friendly and helpful staff.
Feedback
More range in prices.
---
I have been enamored by the American experience that is Shinola. Design and precision are at the heart of all of their products. I own a watch or two, a huge clock, a bag and I believe a baseball, and very recently stayed at the Shinola Hotel in their hometown of Detroit.
Feedback
Hard to say improve, since I think they have figured out leather goods quite well. I suppose I would be ready to by a cool shoe from them, and even a leather tie. I am a fan like that.
---