Average rating from 10 users
100%Recommend to a friend
The Rimowa cabin suitcase is nothing short of perfect. The quality is exceptional, reflecting superb craftsmanship and durability !!! Its sleek design not only adds a touch of sophistication to my travel but also seamlessly complements my existing suitcase from Away. Rimowa has truly nailed it with this one, making it a top-notch choice for any traveler!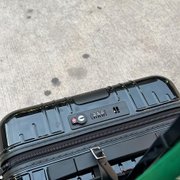 ---
Love product. Great timeless design and impeccable quality. I initially hesitated bc of the high price tag. But I think the investment payed off bc they last. I had to purchase many affordable suitcases in the years before that kept falling apart, rolls fell off, zippers broke, the shell broke and so on. I traveled many times around the globe with all my Rimowa luggage. The 4 rolls are a bliss for traveling at ease.
---
---
I have a two-wheel carry-on and a trunk from the pre-LVMH Topas line (rebranded to "Original). I love them, and don't miss the ability to overstuff a bag the way you can with a soft-sided suitcase. I like the look of them as they age and get bumped and dented and have never felt sensitive about that inevitable wear and tear. The trunk's capacity is incredibly useful, but is vulnerable to being overloaded for what the wheels can handle: I had too many heavy items in it on one trip and one of the wheel wells was damaged in transit (assuming it was handles in a way where one single wheel took too much pressure). I took it to a local store, which sent it for repairs for $45, and had it delivered to my home in perfect condition again. I have a four-wheel carry-on from the post-LVMH aquisition which has a sticky telescoping handle (compared to my other cases) and had one of it's locks jam in the open position. Again, the fantastic team at the store was able to fix it quickly, but it was a frustrating issue that has never happened with my other cases. Overall, I love the pre-LVMH cases and would highly recommend them! My experience with my newest suitcase has given me a bit of pause about the newer models, but I'd be open to reading additional reviews and seeing if others have had better experiences.
---
What is Thingtesting?
Thingtesting is an unbiased place to research and review internet-born brands — because honest reviews help us all shop better. Learn more.
---
I recently got my hands on a RIMOWA suitcase, and I'm in love. Its sleek aluminum design stands out while remaining scratch-resistant and durable. It has smooth-rolling wheels and comfortable inside compartments. Sure, it's not the cheapest out there, but trust me, it's worth every penny.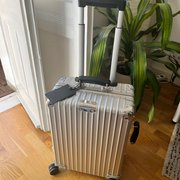 ---
Definitely an investment piece! I bought the classic carry-on as a new-job gift to myself a few years ago and it still looks as glamorous as the day I got it. Yes, it's expensive, but it's so eye-catching and comfortable to roll that it's very much worth the cost. Once packed, the suitcase is sometimes a little heavy to lift into the overhead compartment on flights, but the capacity is great and the body of the suitcase feels indestructible. It's a status-y heritage brand and has a really cool story behind the aluminum cases. The best combination of form and function, tbh.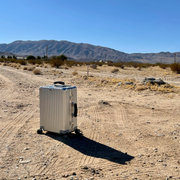 ---
I've bought two Rimowa suitcases over the past 10 years. I love they look and how they move. Both have been the hard plastic versions. Pros: They're sleek and beautiful. They're lightweight They're stylish They fit well in overhead bins. Cons: The material is too easy to suffer a crack just from normal use. The company told me there was not way to repair it so it was a big loss. I like to buy luxury items that last a long time. It is disappointing to have this beautiful bag with a crack that makes it un-usable.
---
These suitcases are great, very practical, very pleasant to carry 🤩 I recommend 100%! They are also light and quite aesthetic...
---
Once I rolled a Rimowa, I knew I never wanted to roll another suitcase again! I have tried a boat load of other luggage companies and have never rolled anything like a Rimowa! The suitcases are quality and made to last. Customer service is fantastic and responds in a timely fashion to fix any issues - lifetime warranty!
Feedback
Hack - purchase the suitcases over seas and get the tax refund at the airport! I travel about once a month and this suitcase is worth the $$! I would recommend the poly-carbonate cabin sleeve for domestic and international travel. It's a risk if you get the cabin plus as a carry on for domestic airlines - they will most likely make you check it. I also purchased the trunk in the classic aluminum and regret not getting this in the poly-carbonate because it adds about 8lbs to the weight when checking the bag.
---
Bought 3 pieces of their Essential line. They were expensive but I'm confidence that they will last a long time. Also, their warranty makes the price point more bearable and their customer service is great.
Feedback
Rimova is a brand that believes in their product and their warranty proves that. Now that they've added the Essential line they have a product to compete (on the higher end) with brands like Away and the like. An investment for sure, but the quality justifies it, and the wheels are better than anything I've tried on challenging surfaces. Note - the zippers are a little frustrating when the luggage isn't full.
---
A forever purchase that will last many lifetimes
---