rhoeco - fine organic goods
5 • 2 Reviews
rhoeco makes a collection of small-batch, specialty herbal teas to promote well-being.
www.rhoeco.com
Average rating from 2 users
rhoeco - fine organic goods Reviews
I discovered rhoeco while in quest for natural and healthy beverages. Not only was I amazed by the great quality of the herbs and the flavourful tisanes which have zero additives, but I was also overwhelmed by the ethos, the great aesthetics and the creativeness of the brand. Definitely worth a try plus they are equally damn good when cold brewed. Five stars!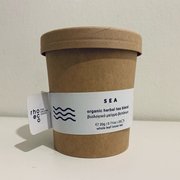 ---
rhoeco is an awesome company that aims to improve quality of life, not only by using zero waste practices, but also by helping to get delicious and healthful herbal teas from Greek producers out to the public! It has been nice getting to know them as a company and to learn about and taste herbs from Greek farmers. And I love the reusable container that you can plant with seeds that are also provided. Urban is my favorite blend so far.
---