Average rating from 7 users
83%Recommend to a friend
Received a free product from Retreat Foods
I love the concept, but dont love the execution. The flavors are not something I could see myself using regularly. The texture is also not as spread-able as you might think it would be. I like the metalic tones (dont see that much) but I think the branding could use a little facelift.
---
Friends with Retreat Foods
These nut butters tasted great. I also liked how they were kind of gritty too. Felt like I was eating something that's actually healthy.
Feedback
Only criticism is the price point, a tad high but hopefully that comes down as they grow and improve their COGS.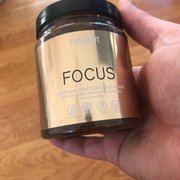 ---
---
I love starting my morning with retreat foods and having one of the nut butters on toast or with apple slices. I've added it to overnight oats and smoothies as well. It's so delish and guilt free!
---
What is Thingtesting?
Thingtesting is an unbiased place to research and review internet-born brands — because honest reviews help us all shop better. Learn more.
---
Obsessed with this brand. The packaging caught my eye, super chic Was keen to integrate more adaptagens into my diet so love this option A nut butter I can enjoy knowing the health benefits Been trying to replace my chocolate addiction with healthier afternoon snacks so this is now one of my go tos on apple slices Boost is my favourite flavour
Feedback
I'd like to try all the flavours so maybe if there were sample sized versions
---
Retreat foods is great! Super tasty and love it in smoothies!
Feedback
Hoping to see more products!
---
I am obsessed with these nut butters! The variety of flavors makes it fun to decide which one I'm going to start my morning toast with, but all 4 leave me feeling satiated, energized, and ready to jump start my day. The balance and boost are my 2 favorites.
Feedback
N/A - these are a great replacement to my go to morning almond/peanut butter and toast.
---