ReFramed
5 • 2 Reviews
Reframed sells flat-packed, aluminum bed frames.
What is Thingtesting?
Thingtesting is an unbiased place to research and review internet-born brands — because honest reviews help us all shop better. Learn more.
Average rating from 2 users
ReFramed Reviews
Experience
I didn't expect my order to come so quick after I ordered, in the past any furniture I've bought that isn't second hand takes 3 months or longer to arrive so I was happy that I could get my bed 4 days after I bought it. The package came directly to my door in 2 boxes - one long one with the frame and a smaller shorter one for the bed slats. I have to say the packaging is incredible and you can feel the weight of the quality, this does not feel like something cheap! Once I unboxed the bed I was so impressed by how utterly stunning this is - it looks better in real life than online! It's also incredibly easy to set up and sturdy once you put the mattress on. Honestly, I am very happy with how it looks and feels, and I even got to have a conversation with the founder. Worth every penny.
Feedback
The set up instructions could maybe be a bit clearer but I was kindly guided by the founder Kasper who was very quick to respond to my Instagram message when I asked for some support.
Lovely customer support
High quality
Innovative product
Worth the money 💸
Luxury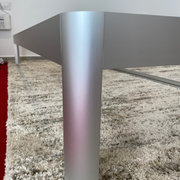 Experience
Super cool brand. I followed them on Instagram and purchased them when they launched their aluminum bed. It was delivered 4-5 days afterward in a super-easy-to-carry flat-pack, so I didn't need to bring any friends to help me get this bed up on the fourth floor. Unpacking was extremely smooth and the bed was assembled in 5 minutes. The bed is even cooler in real life, so despite not being able to see the bed frame prior to purchase I met all the expectations I had. 5/5 stars and I would highly recommend this brand to friends and family.
Feedback
The founder of the brand, Kasper, did a really good job in terms of answering my questions and concerns, so that is highly appreciated. It would have been great to see the bed prior to purchase, so you can see the high quality and excellent finish in real life.
High quality
Innovative product
Cool look & feel
Worth the money 💸
Fun unboxing 📦
Works really well
Eco-friendly packaging
Sustainable products
Love the brand's mission 💕