RAISE Snacks
Raise Snacks makes a variety of high fiber, gluten-free nuts and seeds snack bites.
www.raisesnacks.co.uk
Average rating from 4 users
100%Recommend to a friend
Tasty, indulgent snack for a quick pick me up!
---
I worked on the branding & design for this product and only tried the product half way through working on the project. Genuinely blew me away, so delicious.. I felt compelled to write, as I've bought a box since. I don't always love the products I work on but this was difff!
Feedback
Just thought it was crazy delicious and somehow tasted nostalgic! Wouldn't change a thing!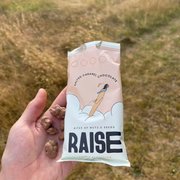 ---
---
WOW! Raise em up! I eat these everyday, obsessed!
---
What is Thingtesting?
Thingtesting is an unbiased place to research and review internet-born brands — because honest reviews help us all shop better. Learn more.
---
Such a good snack for on the go, different to the usual graze snacks I'd grab for my bag and loved the branding so much.
Feedback
Please make a vegan version with caramel!
---