Average rating from 27 users
52%Recommend to a friend
As someone who does not drink, I enjoy Proxies for evenings shared with guests or elevating a homemade dinner with my partner. In terms of a comparison to wine. I do not think this product tastes anything like wine, it lives somewhere closer to a fancy punch. I enjoy it enough, however, that I ordered 10 bottles for my wedding in 2022, as many of the guests were also non-drinkers.
---
Unfortunately, after trying three varieties, both my husband and I found them to have an overwhelming vinegar taste, making them the least enjoyable drinks we have ever encountered. On top of that to ask for a return and refund you have to email them. Which I did and 9 days later still no answer. Very disappointing, poor product and even poorer customer service.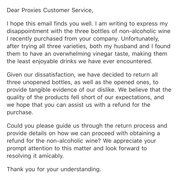 ---
---
It tastes like the kind of liquid mixture you achieve when you are a child and you pretend to cook and prep food and drinks. A disgusting mix of Clamato, grape juice, pickle brine, lemon juice… Like a total improvisation from the things on hand in the fridge. Great marketing, but the product is a total scam. I am not saying from personal preferences. It is simply awful and overpriced, I regret so much buying this! There are so many great mocktails on the market. Don't buy this.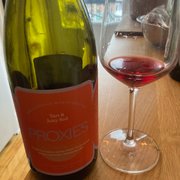 ---
What is Thingtesting?
Thingtesting is an unbiased place to research and review internet-born brands — because honest reviews help us all shop better. Learn more.
---
I am so disappointed in the product. I purchased 6 bottles and the taste is simply horrible. If I'd want to describe it, I would say it taste like a very off sour- bitter juice. It does not taste like kombucha, (edible) juice and certainly not like wine. I tried 3 sips, but I threw away the rest of the bottle. I want to stress that this is not a personal taste question: it really is just disgusting. All these 5 stars reviews are very obviously fake, that I am sure of. And to finish, I emailed Proxies to have at least a partial refund. All they suggest is a discount on my next order... This company is trying their best to sell their products and they will for sure disapear...
---
Non-alcoholic wine is super hard to get right, and unfortunately, this didn't get close for me. It was too sweet, almost more like juice than wine. I think they would have done themselves a favor by simply calling it a non-alcoholic drink, instead of wine, to lower expectations and simply put them in a different category of beverages.
---
Let me tell you about Proxies, the non-alcoholic drink that's rocking my taste buds! This stuff is seriously amazing. First of all, the flavor selection is out of this world. They've got a range of unique and refreshing options that are perfect for any occasion. From zesty citrus blends to tantalizing herbal concoctions, Proxies has got your taste buds covered. But what really sets Proxies apart is the quality of their ingredients. They use only the finest, natural ingredients to create these delicious drinks. No artificial flavors or weird chemicals here! Just pure goodness in every sip. I love how Proxies manages to capture the essence of a great cocktail without any alcohol. It's like having a sophisticated drink without the hangover. Whether you're the designated driver or simply prefer to skip the alcohol, Proxies is the perfect companion. Plus, the packaging is sleek and stylish. These bottles are Instagram-worthy, trust me. You'll feel like a trendsetter while sipping on your Proxies. So, if you're looking for a non-alcoholic beverage that's bursting with flavor and made with love, look no further than Proxies. It's the ultimate drink for those who want to enjoy the party without the alcohol. Cheers to that!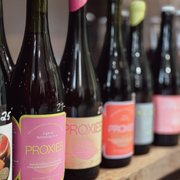 ---
the perfect product for the moment when you want a glass of wine, but don't actually want to be drinking wine. proxies have a subtle, vegetal and fruity flavor that pairs deliciously with food. the packaging is stunning. highly recommend for hostess gifts, dinner parties, or just because.
---
I personally love the taste of Proxies non-alc wines. However, I will say you can't go into it expecting it to taste like wine. They're more of a ~complex juice~ with botanical notes and hints of spices. I love drinking them out of a fancy glass with some ice as a little sweet treat. And the bottles look so great with a big dinner spread - big fan.
---
I think Proxies is a great alternative to alcoholic wine. It has the look and taste of actual wine as well as a super cute bottle! They are so sweet as well, they donated a lot of product to an event of ours! Love them!
---
Was really excited about this brand. Tried 4 of the wines, the Rich and spicy red was so bad I didn't finish the glass. Overall, waste of money. Dissapointed.
---