Popadelics
Popadelics makes a variety of crunchy, flavorful mushroom snacks.
popadelics.com
Average rating from 15 users
93%Recommend to a friend
I love the flavor. Rad Rosemary is the best!
---
I bought the variety pack on the shop app during the week of black friday since the shop app was having specials, i wasn't really expecting much from these but they weren't bad, at first the bag kinda shell shocks you because of how nice it is, each bag feels special it almost makes you want to keep them. The quantity of mushrooms in each bag is perfect honestly, at first i thought there was too little in a bag but after eating a bag i can confirm 1 bag does fill you up. The taste, the taste kinda shocks you at first, it's like you're not sure what to think of the taste it's almost overwhelming when it first touches your tongue but after you chew it and pass it, you're like mhm let me try another, mhm okay not bad let me try another and next thing you know you're like these are actually not that bad.
---
---
Delicious! I tried the rosemary flavor and was blown away. I can't imagine you get very much bang for your buck given they are shiitakes which are inherently expensive, but really enjoyed them. Definitely would buy. I tried them at a trade show.
---
What is Thingtesting?
Thingtesting is an unbiased place to research and review internet-born brands — because honest reviews help us all shop better. Learn more.
---
I tried Popadelics at Love Long Beach Festival this July and after a free sample I went ahead and bought the variety pack. After trying all three flavors I really liked them all. I will recommend this product to friends and family and others.
---
I wish I can have Popadelics as my snack of choice forever. It hits all the notes for me: it's crunchy, packed with flavor, and SO delicious. I loved the rosemary flavor the most.
Feedback
I wish it wasn't so expensive.... but otherwise it's such a perfect snack.
---
So fun and flavorful. Packaging is cute, too. Rosemary flavor is the best imo.
---
I loved the Rosemary popadelics. They taste pretty good
Feedback
The price is very high for a snack. Not sure I would recommend
---
Love love love ❤️ this product . Please support this product and share with friends. Delicious!!!!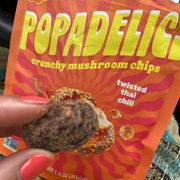 ---
Tried this recently at Krave's Beauty AAPI Market and gotta say I fell in love. Seriously, so good. Tasty. Crunchy. I ate the whole bag in one sitting.
---