Average rating from 9 users
67%Recommend to a friend
I absolutely love this brand. I am obsessed with pleasing as well as harry styles. I love everything that this brand stands for. I have several products from pleasing such as the boy shorts, socks, towel, sweatshirt, big lip and beach bag. I went to the pleasing pop up in NYC and it was such a cool experience. The workers were super nice and I got a free tote and nail polish. I will continue purchasing from pleasing!!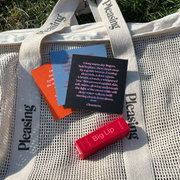 ---
5 star review simply because hello? Gender neutral nail product in 2023 finally and yes please! and its harry freaking styles. enough said.
---
---
I love what this brand stands for! The packaging is amazing and the polish was smooth and applied easily. It chips sort of easily (but I guess every other nail polish brand I use does too). So overall I think it's great and I can't wait to get more colors.
---
What is Thingtesting?
Thingtesting is an unbiased place to research and review internet-born brands — because honest reviews help us all shop better. Learn more.
---
I have the Pearly Tops Polish, which was sent to me as a gift. I love the packaging, the look & feel of the bottle, and the subtle, shimmery color. Also just a huge Harry Styles fan so was excited to try the product :)
---
For how expensive this is, I wanted it to be amazing. It was just okay. The nail polish is sheer and chips easily. Cool packaging and love the mission. Marketing is 10/10, but it's Harry Styles. Very inclusive and diverse in the imaging on the website!
---
The nail polish takes absolutely ages to dry. It's sticky af. The little stickers are cool, and the shades are fine. It feels like zero effort was put into formulating these.
---
ok disclaimer i'm a BIG harry fan so i'm a little bit based. i have the og polish set and the shroom bloom set, i love the colors and the look of the products and them are pretty high quality in my opinion. the nail stickers are also such a cute touch! i also bought the beach towel from the hot holiday collection and although it was expensive it's a great quality towel, super big and thick and soft almost like a blanket. i love this brand but i get why people don't i think there's a lot of thought behind the message and designs!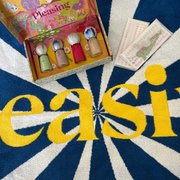 ---
Honestly, the packaging is the most remarkable part of this product. I was immediately intrigued by the marble bulb on top, which is what initially drew me to the product & made me buy it. However, the actual formula isn't really outstanding, and I feel like I could get better coverage from drugstore nail polish.
Feedback
Consistency (a bit too thin for my liking - took a few too many coats to look nice on my nails)
---
I'll be honest: Yes, I did buy this because of Harry Styles. But I probably wouldn't have purchased it if they hadn't listed all of their sustainability measures and ethical practices. Now, are the nail polishes worth the cost? For me, yes. I pay higher prices for any product that takes these kinds of measures. I purchased the Perfect Polish Set, which includes all 4 polishes from the first launch. The nail polish itself is on the runnier side of consistency, which I found made it really easy to apply. I hate when you get those streaks or clumps in a thick polish. You need about two coats to get an opaque look, which I think is the standard. I particularly like the opalescent-matte look of Pearly Tops. I found that to be the most unique offering since it's able to transform the other colors in the set. The bottle design makes it easy to hold without making your freshly painted nails accidentally touch. Overall, I enjoyed these, but I'm not a frequent nail polish purchaser so I might have lower standards than a frequent user.
Feedback
I personally would prefer more bright color offerings!
---