Average rating from 29 users
100%Recommend to a friend
Owala Reviews
All

29
Water bottle 32oz

6
Water bottle 24oz

6
40oz Water Bottle

2
this is the best water bottle in the whole universe and i'm literally so right about it!! 1. cap lock: this girly DOES NOT SPILL!!!! 2. everything is easily removable bc we shouldn't drink moldy water 3. sip OR chute: i always use the straw because i'm a gerbil but the chute is great if people are waterfalling. this is literally everything you could need in a bottle and no one can compare.
---
I only wish I found Owala bottles sooner. They are by far the best water bottle I've ever used; I'll never go back to other brands. The design of the mouthpiece allows you to either sip like a straw or tip and chug, you don't need to touch the mouthpiece to open the lid, and the handle acts as an additional lid lock. Really easy to clean. Water stays cold for ages. And there's so many cool colours.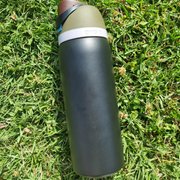 ---
---
I used to be a diehard Hydroflask girl, but Owala is now my new go-to. I love that there's two ways to drink from it and love the fun colors it comes in!
---
What is Thingtesting?
Thingtesting is an unbiased place to research and review internet-born brands — because honest reviews help us all shop better. Learn more.
---
As a teacher, my water bottle needs are different than that for someone in the gym. I need a straw to be able to take a quick sip between instructions. I need a wide mouth for gulping after recess in the heat. I need a handle for easy carrying. I need it to lock shut when kid's accidentally knock it over. I need it to stay cold all day. The 24 oz fits in the cup holder of my car. This one does it ALL. My only complaint is that I have to hand wash it (the rubber seal shrinks in the dishwasher causing leaking).
---
This is the BEST possible water bottle. Truly life changing. The built in straw makes it stand above all the rest. Keeps beverages cold for more than 24 hours / I'm always amazed there is still ice ! I've purchased this water bottle as a gift for many !
Water bottle 32oz
Water bottle 24oz
40oz Water Bottle
---
My wife is always bringing home random water bottles. In Owala, she's finally found the one she loves the most. The design on this water bottle is genius. The straw technology just blows my mind, and it's so easy to use. After using her Owala on a daily basis, it's time for my own. I know what I'm asking for this Christmas!
---
My current emotional support water bottle is the 24oz freesip. I've taken it to the gym, work, travel, and pretty much everywhere in between. I have zero complaints and find the straw/sip too kinda cool
---
My new go-to water bottle brand! I've tried SO many brands and these have stuck the longest. The lid is a game changer - the straw and spout combo is so convenient. Also really love that the straw tip is fully covered by the lid. I've never liked the water bottles with straws exposed, so this is a winner. Recently got into their color drops too, which is a really fun way to get unique color ways that fit your aesthetic.
---
Simply the best water bottle in the game. Stylish, convenient, easy to clean, keeps water cold. Their new tumbler is great, but the regular FreeSip bottle is the best.
---
This is the best water bottle I've ever used. I take this everywhere with me and it actually keeps cold stuff cold. This is one of the best gifts you can gift.
---