Average rating from 18 users
100%
Recommend to a friend
My new go-to water bottle brand! I've tried SO many brands and these have stuck the longest. The lid is a game changer - the straw and spout combo is so convenient. Recently got into their color drops too, which is a really fun way to get unique color ways that fit your aesthetic.
---
I have been song this bottle ALL OVER MY TIKTOK FYP! I decided it was finally time to go buy one. I went to to Target and got one and it lives up to its fame. I LOVE that it has the sip/straw option and the normal drink option. I also love that the color of the body of the bottle is different then all the parts on the lid. It keeps my water cold just as well as my old hydro flask! Overall 10/10 worth the hype.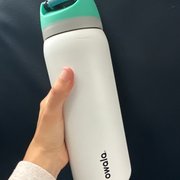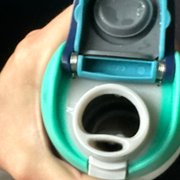 ---
---
I am obsessed with my Owala. I don't think I will ever need another water bottle. It keeps my drinks and ice cold for hours and is very sturdy. I have dropped it multiple times with no dents. The best part is the lid. The fact that you can drink in different ways with the hidden straw and open mouth is a game changer. I also love that you can hold it by the handle or use the handle to lock it. This thing has NEVER leaked on me!! While the 32 oz bottle cannot fit in a cup holder right-side up, you can put it in upside down, and with no leaks, I do this all the time. The different colors and color drops throughout the year make it a really fun thing to collect as well. I only have one currently but am excited to get more! I have converted many friends and family members over to Team Owala.
---
What is Thingtesting?
Thingtesting is an unbiased place to research and review internet-born brands — because honest reviews help us all shop better. Learn more.
---
10/10 would recommend. Fun colors, insulated, and doesn't have a ludicrously capacious mouth. Yay.
---
This is the best water bottle I've ever used. I take this everywhere with me and it actually keeps cold stuff cold. This is one of the best gifts you can gift.
---
Worth every penny. This is my ESB I take it everywhere and love the functionality of being able to sip and tilt. I also love how it pops open and that the mouth piece is always covered to keep it clean.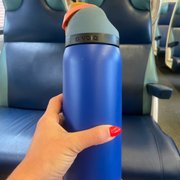 ---
Completely obsessed with my FreeSip water bottle. I like that you have the option to either sip from the straw or drink from the spout. Also in love with the super fun colour combinations. I´ve already convinced two friends to get one. Can´t recommend it enough!!!
---
THIS IS MY FAVORITE WATERBOTTLE EVER! My boyfriend got me this water bottle back in 2021, and it's amazing! The mouthpiece is covered, and there is two different ways to drink! I LOVE IT LOVE IT LOVE IT
---
The Owala Freesip is, indisputably, the best water bottle ever. I've recommended this water bottle to at least 5 people at this point, and everyone has loved it! My boyfriend, who does not care about water bottlers as much as I do, has said it is a revelation. I converted to being a water bottle sipper in an attempt to quit vaping a couple years ago, since it was a (much) healthier alternative that still succeeded in satisfying my oral fixation. On the other hand, sometimes, I still want the option to chug, like when I'm trying to swallow a large amount of pills. The metal freesips have really good insulation, and have kept my water cold for an entire day. They are durable, with one particular metal freesip of mine surviving a 50+ foot drop down a small cliff with only a small dent to its name. They come in really fun colors as well, with the only downside being they are relatively heavy (comparable to hydroflasks) and the larger sizes (32oz and above) do not fit in a car cupholder. I recently also acquired the Tritan plastic freesip, which I might love even more due to it's lighter weight, cheaper price, and greater portability. I hope this company keeps innovating because I am a loyal customer and lose my bottles often (lol). I'm slowly phasing out my bottles from other brands and will continue to buy the Freesips for as long as you keep making <3
Feedback
Larger Freesip sizes that are car-compatible! Other than that, nothing - genuinely love your brand and happy to see you expand into so many stores.
---
I just recently switched from my hydroflask to the Owala freesip and its my new favorite thing. It keeps my water cold for hours and I like that it has a straw or the chug option. The lock mechanism is also perfect and the cap over the mouthpiece helps keep it much cleaner than my hydroflask. Overall very happy with my new water bottle.
---