Average rating from 4 users
75%Recommend to a friend
Outstanding Foods Reviews
The chedda cheese balls are so so good. The perfect ratio of crunch, puff, and cheese. I just ate a whole bag in one sitting.
---
I love these! I pay lots of attention to my protein intake, and it's been so hard to find a protein chip that's plant-based. The puffs are great (or should I say, outstanding...) and really satisfy those chip cravings.
---
---
I'm a total cheeseball head so I wanted to love the "chedda" flavor! It just was super clear to me these were a vegan fake cheese and they lacked the tang or sharpness I was looking for. I'm sure they're very good for you and I do generally like vegan cheese, but this particular varietal wasn't for me.
---
What is Thingtesting?
Thingtesting is an unbiased place to research and review internet-born brands — because honest reviews help us all shop better. Learn more.
---
Amazing products. Amazing mission and customer experience.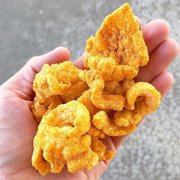 ---