Otherworld
4.5 • 6 Reviews
Otherworld makes vegan pancake and waffle mixes packed with whole grains and superfoods while maintaining light and fluffy results.
eatotherworld.com
Average rating from 6 users
80%Recommend to a friend
The flavors are great and I'm a big fan of sneaking vegetables into my food. It's healthier than a regular pancake by far, but doesn't have the nutritional substance to be a total meal replacement (which is fine). Personal knack, I make mine in the microwave (water + mix + 2 min in microwave) and they turn out much fluffier than on the pan. Not sure why, but my pan-cooked ones come out flatter and are more likely to be undercooked in the middle.
---
I discovered this brand at the Showfields Mission Market in NYC. One of the co-founders, Joe, was doing a pancake demo and was kind enough to speak with me in depth about his products and their mission. His passion for healthy foods and climate-friendly products was clear and impressive. I am gluten-free so I couldn't try the sample, but everyone was giving rave reviews and he mentioned they'll be releasing a gluten-free mix in a few months. You better believe I'll be the first one in line to try that out!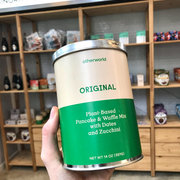 ---
---
Otherworld is delicious! These are always my go-to pancakes & waffles for when I'm having brunch with my dairy-free friends :)
---
What is Thingtesting?
Thingtesting is an unbiased place to research and review internet-born brands — because honest reviews help us all shop better. Learn more.
---
I purchased the bundle pack with four different flavors. The flavors are nice I have no complaints there the problem is none of the pancakes come out fluffy. They are all undercooked and gooey in the middle. I have tried different settings on the heat, cooking for longer periods, adjusting the water to mix ratio and nothing helps. I have also cooked the waffles and they come out the same way. They are lacking something to give them the rise that they need. I will not purchase again unless I know that a change has been made. You would be better off just getting your vegetables on the side.
Feedback
Add whatever ingredient you need to to help these pancakes rise better.
---
Otherworld gave me the excuse I needed to eat pancakes everyday. They're light in both texture and the way they leave you feeling -- no breakfast hangover or sugar come down. They're my go-to lately for a balanced (and delicious) breakfast!
Feedback
I recommend splurging on the bundle and getting to try all the available flavors. This has last been lasting me a while (granted I cook for one). Unfortunately, there's no option for purchasing just one tin at the moment.
---