Numilk
3.5 • 2 Reviews
Numilk makes fresh, organic, and plant-based milk, lattes, and protein shakes that are made by consumers at the push of a button.
numilk.com
Average rating from 2 users
I made my own oat milk with Numilk's grocery store machine at the WF in Williamsburg. It was fun but the station was quite messy which made me question the hygiene. The milk was tasty and did not curdle in my coffee (aka my number one criteria for oat milk).
Feedback
I must admit that I didn't fully understand the value proposition of the machine when I could just pick cheaper oat milk off the shelf. But it was fun to test once! 👀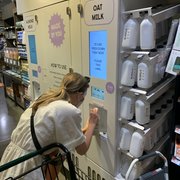 ---
I don't have one of their at-home machines, but I use the big machine in the Williamsburg Whole Foods. My stomach is sensitive to the fillers in bigger brands like Oatly, but I prefer oat milk to almond milk, so having a fresh option like Numilk is really appealing to me. I love the simple ingredients and the feeling of "making" my own oat milk, too. The taste is great and I love it in matcha lattes.
Feedback
I wish they had a sustainable reusable bottle option (but maybe that's a qualm with Whole Foods), and I wish the cost were a bit more competitive.
---