Nothing New
3 • 2 Reviews
Nothing New makes vegan, eco-friendly footwear for men and women designed with clean lines, vibrant colors, and luxury quality.
nothingnew.com
Average rating from 2 users
These are my FAVORITE sneakers. I got them in pink with pink soles and wear them all the time- to the gym, out and about, dressed up or down. The fabric is surprisingly soft given that they're made with recycled materials, and they seem quite sturdy in the few months I've used them.
Feedback
Like regular chucks, they lack arch support. I put a support sole in and they're perfect.
---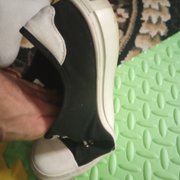 ---