Neighbor
4.67 • 3 Reviews
Neighbor makes outdoor furniture that is designed to be durable and weather-resistant.
What is Thingtesting?
Thingtesting is an unbiased place to research and review internet-born brands — because honest reviews help us all shop better. Learn more.
Average rating from 3 users
Neighbor Reviews
Experience
We ordered our outdoor patio furniture from Neighbor and it is the most beautiful piece of outdoor furniture I've ever owned. Gorgeous, high quality teak wood and top shelf Sunbbrella waterproof cushions. We received a couple of incorrect pieces with our order, as well as cushions of the wrong size. Customer service was fantastic. They responded immediately and had the right pieces and cushions sent out right away. I felt very secure in my purchase after that because I knew that my high end purchase would be backed up by solid customer service.
Feedback
Honestly, I can't think of anything specific that would need improvement. Maybe paying closer attention to orders before they go out to avoid having the incorrect items sent.
Lovely customer support
High quality
Cool look & feel
Worth the money 💸
Luxury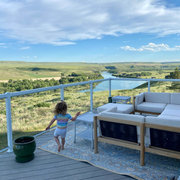 Experience
I placed an order online of a coffee table, 2 chairs, and 2 ottomans after seeing Neighbor at a local store doing a popup for the weekend. Getting to sit in the chairs, touch the wood and feel its weight were helpful to committing to buying it online. Now I wouldn't hesitate to order from them without seeing the product in front of me first. The only reason I am giving this 4 not 5 stars is because of the many shipping fiascos we ran into! They had to reship different pieces 3 times - packages didn't make it to my house or they went to the Neighbor warehouse. Honestly, it was fine though - the customer service that Neighbor gives is really incredible. They were responsive and helpful each time. Building the furniture was really straightforward. They are easy to clean and care for and so incredibly comfortable.
Feedback
As mentioning above with the only reason this is 4 not 5 stars - shipping things could get improved. I know that's tough right now, lots of things in the shipping system are rather messy and I'm not sure this is entirely on Neighbor - if Fedex was involved somehow. It would have been nice to not have to keep checking in on lost packages. At the end of the day though, customer service is really amazing and I am a happy customer.
Lovely customer support
High quality
Worth the money 💸
Works really well
Sustainable products
Experience
My husband & I had started to look for patio furniture and we kept finding that 1.) Patio furniture is VERY expensive and 2.) A lot of companies want you to pay for design while quality lacks. We came across Neighbor when they did a small pop-up event at a local shop in the Uptown Phoenix area. So we went over and talked with one of the owners who was there with their products. They were very knowledgeable and weren't pushy at ALL! We decided to go to their show room so we could see all colors and styles in person. The thing we loved about Neighbor was that they use only high quality materials (this matters VERY much in AZ - the sun will destroy anything), we loved that they were a local small business, the style of their products is just modern enough, and we loved that we could start with a small love seat and add on later. The picture I shared shows our couch in my husbands man cave lol - we are in the works of getting our patio done and between that and the storms/heat of summer we haven't been out back much anyways so we have it inside.
Feedback
My only critique is the price. We paid quite a bit for the love seat - however, we ended up feeling ok spending that amount since we knew the quality of the materials were worth it. We figured the price was worth spending since it would last for years and years and we wouldn't have to replace the furniture each year, like you have to with lower end quality patio furniture.
Lovely customer support
High quality
Cool look & feel
Worth the money 💸
Amazing website
Love the brand's mission 💕